Musty Basement Smell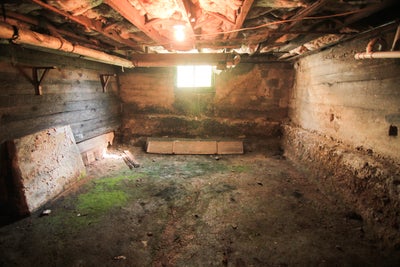 Most North Carolina homeowners will likely recognize the familiar scent of musty basements. Although these odors might seem insignificant, they often signal grave underlying problems needing immediate attention.
Tar Heel Basement Systems excels at effective moisture management, which is essential for long-term foundation and basement health.
For years, we've specialized in offering thorough basement waterproofing services to address musty odors and address their root causes. Residents throughout North Carolina have placed their trust in us, valuing our unmatched customer support and dependable solutions.
This article will enlighten you about the reasons behind your basement's musty smell and how Tar Heel Basement Systems can remediate the root issue.
Identifying Musty Basement Odors 
Typically, musty basement smells can be characterized as stale, wet, or moldy scents originating from your home's lower level. Such smells, while distressing, can also act as red flags for moisture and structural challenges.
These scents frequently coincide with:
Water in Basement
Increased basement humidity
Mold growth
Decaying wood
Insect infestations
Wet and ruined possessions
Plumbing malfunctions or backups
Ignoring these signs can lead to even more damage, escalating minor issues into extensive troubles. It's crucial to act swiftly. Should you detect these signs, reach out to basement waterproofing experts like Tar Heel Basement Systems for an inspection and advice on the next step to take.
Reasons Behind Musty Smells in North Carolina Basements 
A multitude of factors contribute to these odors:
Humidity: Basements, often with inadequate ventilation, are susceptible to moisture retention.
Water Entry: Plumbing or external leaks can result in stagnant water.
Mold Manifestation: The blend of dampness and poor airflow creates a perfect mold habitat.
Insect Colonization: Pests introduce pollutants and leave behind detritus, which contributes to a musty smell.
Moist Items: Objects like carpets, furniture, and containers can retain moisture, adding to the scent.
Deteriorating Insulation: Wet insulation can release an off-putting smell, becoming a mold and pest haven.
Decay: Timber structures might rot, releasing the familiar musty scent.
Blocked Drains or Sump Pumps: These can cause water retention and the associated smells.
Compromised Sewage Main: A faulty sewage pipe can release noxious odors, presenting health hazards.
Foundation Flaws: Foundation cracks can admit moisture and ground gases.
Connect with Tar Heel Basement Systems for a no-cost inspection. Our seasoned team will identify the problem's origin and suggest specific remedy options.
Can Tar Heel Basement Systems Resolve Musty Basement Odors?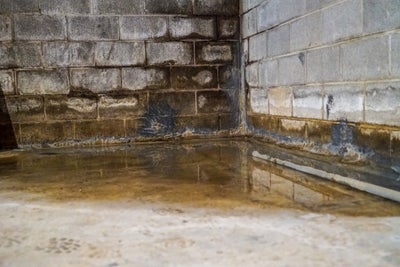 Absolutely. Rather than resorting to temporary fixes like air fresheners, it's essential to address the core issue.
Tar Heel Basement Systems implements a multi-faceted basement waterproofing strategy to tackle the moisture origin and provide lasting resolution.
The Tar Heel Basement Systems Method for Musty Smell Remediation 
Our holistic strategy to treat basement odors and moisture includes:
Exhaustive Examination: Our specialists conduct a complimentary inspection, assessing your residence inside and out, pinpointing issues, and proposing tailored solutions.
Basement Gutters: Our unique drainage system effectively manages leaks, diverting water from your walls, floor, and joints.
Sump Pumps: These devices, installed at the basement's lowest point, drain accumulated water, ensuring it's directed away from your residence.
Vapor Barriers for Walls: Our robust, waterproof, mold-resistant vapor barriers shield your basement from outside moisture, channeling any seepage to the drainage mechanism.
Dehumidifiers: Our efficient dehumidifiers optimize indoor air quality, regulating moisture, banishing odors, and inhibiting mold.
Wall Repairs: Utilizing reinforcement techniques like wall anchors and carbon fiber straps, we stabilize walls, preventing cracks and moisture entry.
Tar Heel Basement Systems proudly offers specialized solutions, guaranteeing greater efficacy than generic alternatives. We also provide long-lasting warranties and maintenance schemes.
The Importance of Addressing Musty Odors 
Addressing these odors promptly is essential due to:
Health Concerns: Mold exposure can lead to respiratory health complications. Damp environments also attract pests that can transmit diseases.
Structural Degradation: Persistent moisture erodes walls, floors, and foundations. Timber affected by moisture can rot, leading to structural issues.
Other Leaks and Damages: Excessive dampness can corrode piping, electrical circuits, and machinery.
Property Worth: Recurring issues can diminish your home's market value.
Comfort: Removing these scents enhances your living experience.
Choose Tar Heel Basement Systems for enduring, professional interventions.
Connect with Tar Heel Basement Systems for Trusted Basement Waterproofing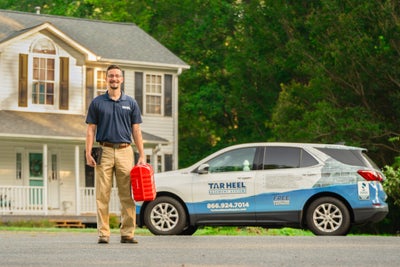 Having a basement in North Carolina doesn't necessitate enduring musty smells. With Tar Heel Basement Systems, you can permanently bid adieu to unpleasant odors and their origins.
For a free, non-binding inspection to discern the best strategy for your basement, contact us today.
Our exclusive waterproofing offerings, esteemed by countless homeowners, surpass any retail alternatives.
FAQs
Yes, eradicating mold is a crucial step in removing musty odors. Mold growth is a primary cause of these unwanted smells in basements. When Tar Heel Basement Systems addresses mold issues, we not only focus on removal but also on ensuring that the conditions conducive to mold growth are mitigated. By eliminating mold and addressing the root causes of moisture, the musty odors often dissipate. However, it's essential to note that while mold removal can help, a comprehensive approach, including proper ventilation and moisture control, is vital to ensure the odors don't return. 
An air purifier can help reduce airborne mold spores and improve indoor air quality, which may assist in lessening musty odors. However, it's important to understand that while air purifiers provide a temporary solution, they don't address the root causes of the odors, such as moisture problems or mold growth in hidden areas. Tar Heel Basement Systems recommends using air purifiers as part of a broader approach that includes addressing moisture issues, ensuring proper ventilation, and treating any mold growth to effectively combat musty basement odors. 
The lifespan of basement waterproofing largely depends on the quality of the products used, the expertise of the installation, and the specific conditions of the basement. When Tar Heel Basement Systems conducts basement waterproofing, we utilize high-quality materials and proven techniques that are designed to last for many years. In most cases, homeowners can expect our waterproofing solutions to last for decades with minimal maintenance. Additionally, many of our waterproofing solutions come with extended warranties, providing homeowners with peace of mind regarding the longevity of the protection. 
Publish Date:
Last Modified Date:
Explore more problem signs