Basement Wall Cracks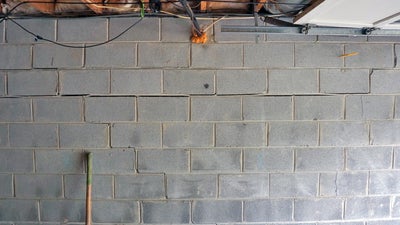 Have you observed disturbing cracks spreading across your basement walls? Cracks might be common, but they're certainly not harmless.
Unchecked, these cracks jeopardize your basement's structural health and can pave the way for moisture invasion. Tar Heel Basement Systems simplifies the task of addressing basement wall cracks.
Our team is equipped to diagnose these cracks, clarify their origins, and suggest effective solutions for lasting relief. Dive into the insights on this page to grasp the reasons behind wall cracks and the essential measures to counteract them.
Defining a Basement Wall Crack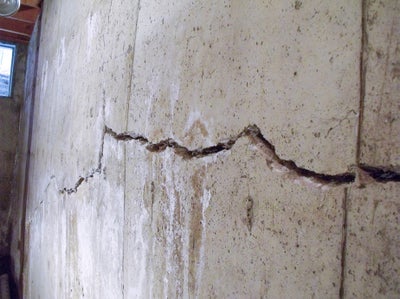 Basement wall cracks signify a break or fault in the concrete forming your basement's surrounding structure. It emerges when external pressures exceed the concrete's tensile capabilities.
While not every crack signals impending foundation collapse, it does necessitate swift action to prevent escalation, water penetration, and structural instability.
Cracks vary— their position, nature, pattern, and dimensions dictate their priority and the corrective techniques needed. Our meticulous inspection routine evaluates every visible crack to determine the best remedy.
Deciphering the Causes of Basement Wall Cracks
Several elements can instigate and expand these cracks. Our assessment educates homeowners on these triggers, making it simpler to spot them:
Soil Movement and Settlement
The earth around your basement adjusts over time. Rain or groundwater can erode it, or arid conditions can make it contract. In these situations, the shifting ground can't buttress the basement consistently, causing it to develop cracks.
Inadequately packed backfill also settles irregularly, inducing stress and typically manifesting as vertical cracks along the wall's mortar joints.
Hydrostatic Force
Following precipitation, subterranean water amasses, exerting colossal lateral pressure. If adjacent to your basement walls, this force can cause them to bow inward. This phenomenon is known as hydrostatic pressure.
With time, this pressure surpasses the concrete's strength, forming horizontal cracks, especially near the floor.
Climate's Freeze-Thaw Patterns
The alternating freezing and melting cycles seasonally subject your foundation to repeated expansions and contractions. This constant fluctuation stresses the concrete, commonly resulting in vertical cracks at exterior wall junctions.
Flawed Curing
As concrete cures, it hardens and becomes more resilient. Curing mishaps, such as poor mixing, premature freezing, excessive moisture, or incorrect finishing, produce fragile concrete. The foundation is then more susceptible to cracking when pressure is applied.
Tree Root Invasion
Expanding tree roots can add pressure to the foundation. This force exploits the weak spots in basement walls, particularly around the perimeter.
Properly diagnosing the factors for basement wall cracks informs us of the best choice of repair methods. Tar Heel Basement Systems is equipped to offer tailored solutions to effectively address any of these underlying issues.
Can Basement Wall Cracks be Fixed?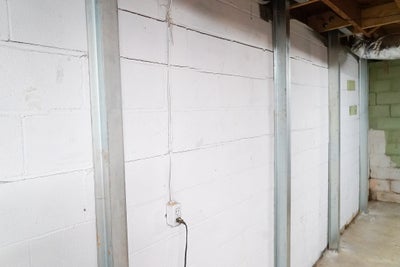 Absolutely! Modern advancements in foundation repair mean that a crack doesn't necessitate a total basement wall replacement. Collaborate with our experts to reinforce your walls, mend cracks, and fortify against future damages.
We implement diverse wall reinforcements to shield basements from further cracking. Our guaranteed solutions ensure your basement's security, stability, and dryness for years.
Our Approach to Mending Basement Wall Cracks
Our repair strategy has garnered the trust of countless homeowners across North Carolina. Our commitment to precision and efficiency is unparalleled. When you work with Tar Heel Basement Systems, we'll follow an innovative procedure:
1. Comprehensive Assessment
We meticulously chart all evident cracks, noting their locations, dimensions, patterns, and depths. This helps discern whether soil movements, hydrostatic pressures, freeze-thaw effects, or curing flaws instigated the cracks.
2. Installing Reinforcement Solutions
To bolster weak areas and curb future cracking, we introduce suitable reinforcement strategies, such as:
3. Introducing Waterproofing and Drainage Systems
We counteract moisture penetration via cracks by implementing an interior drainage network, dehumidifiers, and robust vapor barriers. Our sump pumps proficiently redirect water away from your foundation.
The Danger of Delaying Crack Repairs
It's important not to delay when addressing wall cracks for the following reasons:
Forces continually act on these cracks, escalating their severity.
Growing cracks usher in increased moisture, leading to erosion, flooding, and possible mold formation
Overlooking cracks may result in foundation sinking, destabilized floors, and jeopardized structural supports
Repair expenses rise as cracks spread, with additional costs due to water damage.
For safety, vast foundation cracks need monitoring sensors to detect sudden enlargements
Don't risk your home's structural integrity. Tar Heel Basement Systems delivers prompt, potent solutions that not only mend existing cracks but also remedy basement walls at their foundation.
Reach Out to Tar Heel Basement Systems for Professional Crack Repairs in North Carolina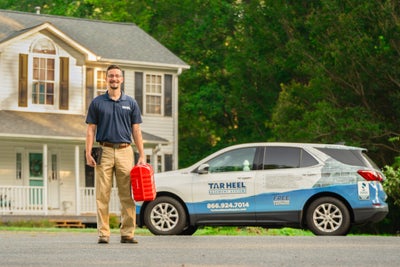 Neglected basement cracks can lead to foundation instability and expensive water damage. At Tar Heel Basement Systems, our pioneered techniques repair existing cracks and fortify your entire basement.
Benefit from our complimentary, in-depth basement inspections. Contact us today to book yours! Trust us to address the root causes with our comprehensive repair strategies, and not just superficial quick fixes.
Basement Wall Crack FAQs
While not every basement wall crack signals an impending foundation collapse, it is crucial to address even minor cracks promptly. The severity of a wall crack can depend on its position, nature, pattern, and dimensions. At Tar Heel Basement Systems, our experts perform a meticulous inspection to evaluate the seriousness of each visible crack. They will then recommend the most effective repair method. 
The time required for repair varies depending on the severity of the cracks, their root causes, and the recommended solutions. After performing a comprehensive assessment, our team will provide you with a detailed timeline for the repair process. 
The cost of repairing basement wall cracks depends on multiple factors like the severity of the cracks, the underlying causes, and the type of repair method chosen. After a comprehensive inspection, we'll provide you with a detailed estimate. We aim to offer lasting solutions that are cost-effective in the long run. We recommend booking a complimentary, in-depth basement inspection with us for a personalized assessment.
Publish Date:
Last Modified Date:
Explore more problem signs