About Tar Heel Basement Systems
Tar Heel Basement Systems, founded in 2003, is a subsidiary of Groundworks, a family of companies that offers superior, proven solutions for your foundation repair, basement waterproofing, crawl space encapsulation, dehumidification, and concrete lifting needs. We devote our years of experience, industry knowledge, and specialized training to help customers protect their homes or commercial buildings from water damage, concrete sinking, and foundation failure.
With offices in Raleigh and Winston-Salem, we serve from the North Carolina High Country to Winston-Salem and parts of southwest Virginia.
About the Founder
I am Pete Burgess, and along with my beautiful wife Nancy, we are the founders and former owners of Tar Heel Basement Systems. We have two wonderful daughters, Hillary and Kari; and two amazing granddaughters, Clare and Irene. I am originally from Illinois, graduated from the University of North Carolina where I met Nancy, got my MBA from Northwestern University, was a commissioned officer in the Navy, and am a licensed general contractor in North Carolina and Virginia.
After years in the business world in Chicago, I tried to retire and find solitude with Nancy in the beautiful Blue Ridge Mountains. Upon building our dream home and encapsulating the crawl space, I became a firm believer in the CrawlSeal™ product. My retirement was short-lived as we grew a "one-man operation" (me!) into a multi-service operation with nearly 100 employees, necessitating relocation of the business to Winston-Salem, NC, from Boone, NC.
While it is hard work owning a growing business, I love what our company is about. We are truly a needed service and there is no greater satisfaction than solving a homeowner's basement, crawl space, or foundation issues!
Finally, in November of 2017, Nancy and I merged our company with Groundworks LLC out of Virginia Beach, VA, to allow us the freedom to grow beyond the artificial boundaries imposed by a previous affiliation and material supplier. We now service the entire state of North Carolina and are the largest crawl space encapsulation, basement waterproofing, foundation repair, and concrete lifting company in the state.
Meet Our Team
Tar Heel Basement Systems is Your Local Crawl Space, Basement, & Foundation Repair Expert
Since Tar Heel Basement Systems is a debt-free corporation, customers should be very comfortable knowing the financial strength behind us. We are also an A+ rated, accredited member of the Better Business Bureau.
We specialize in crawl space moisture control, basement waterproofing, and foundation repair. We offer the highest quality products, which are time-tested, professionally designed and engineered solutions, professional installation, product warranties, free inspections, and unparalleled service without a lot of unnecessary "bells and whistles."
Our History & Success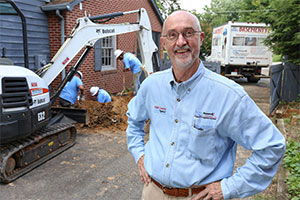 The company began by specializing in crawl space encapsulation and now specializes in basement waterproofing, crawl space encapsulation, as well as foundation repair. The company has grown every year it has been in business, including through the 2007-2010 recession. We now employ more than 100 people.
Since June 2003, Tar Heel Basement Systems has installed millions of square feet of CrawlSeal™ vapor barrier in thousands of homes from the North Carolina High Country to the Triad.
The evolution of Tar Heel Basement Systems is very exciting and we look forward to continued future growth and success.
Our Service Area
In North Carolina, we serve Boone, Blowing Rock, Banner Elk, Burnsville, Linville, Lenoir, Taylorsville, Sparta, Hudson, Roaring Gap, King, Lewisville, Walkertown, Yadkinville, Spruce Pine, West Jefferson, Jefferson, Winston-Salem, Thomasville, Mount Airy, Elkin, Clemmons, Lexington, High Point, as well as many areas in between.
Affiliations & Accreditations
Awards