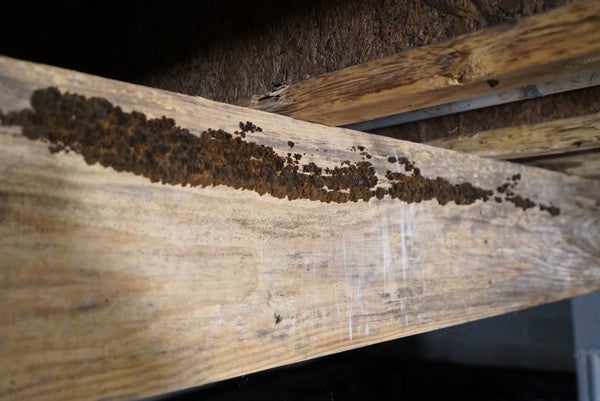 There are many ways you, your family, and your home can benefit from cleaning up your crawl space, but so much goes into creating a clean and dry space. We're not just talking of basic cleanup or removing water from the crawl space floor. Your crawl space harbors pests, debris, mold, and insects of all kinds, as well as dust and leaves. All these would make this space pretty dirty and unusable.
You can do a couple of things as part of your cleaning exercise. Let's look at what these activities are and their respective costs. At the end of it, you should have a good idea of how much you're going to spend to clean your crawl space.
Basic Cleaning
Sweeping dirt and removing stagnant water out of the crawl space may seem like a small thing. But wait till you crawl down there and realize you can't lift your head or move easily. You won't wish to continue with the DIY cleaning. So leave this to professionals who know how to wriggle their way while cleaning. Basic cleanup may cost you from $500-$1,000.
Pest/Rodent Removal
Warm and damp crawl spaces are instant magnets for pests. As well as removing organic materials, you may also have to exterminate and remove pests along with their droppings. Otherwise, they will continue damaging and dirtying the crawl space. Cleaning droppings and removing pests may cost you $2,000 on the lower side and $4,000 on the higher side. Make sure you find a trustworthy pest control company to help you out.
Mold Remediation
Mold in the crawl space is a major health hazard as they can release spores to your home. Besides causing respiratory problems, it can worsen asthma and trigger headaches and itchy eyes. The major source is moisture. Mold removal or remediation could cost you upwards of $1,000. Some experts can charge $2,000 or more per case. Once you tackle the mold, you should seal the crawl space and install a dehumidifier to control moisture.
Crawl Space Fungus Treatment
Just like mold, fungi are another problem in wet crawl spaces. These organisms can manifest as white mold and poisonous mushrooms. When they infest the crawl space, they can trigger allergic reactions. It's likely you'll use the exact treatment and contact the same professionals who carry out mold remediation. Also for this exercise, set aside at least $2,000.
Debris Removal
Over the years, your crawl space will attract all kinds of debris from rocks to branches to leaves from nearby trees. Construction materials can attract and harbor pests. Organic material can also decompose and cause the crawl space to smell bad. So they all have to go. The same goes for junk and old items that litter this place. Removing them can cost you roughly $500-$1,000.
Insulation Removal & Replacement
Sometimes, crawl space insulation gets damaged because of pest activity or accidents. Rodents could claw this material as they seek a hiding place or nesting area. When this happens, the material becomes less efficient in conserving heat. That means it's time to remove the material and replace it. This may cost you anywhere from $1,000 to $3,000 or more.
How Much Time to Clean?
Depending on the size and condition of your crawl space, cleaning can take a couple of hours (on a bright sunny day) to a couple of days. It's good to schedule an inspection as your contractor will give you an accurate assessment of the place and a timeline for cleaning.
What Influences the Cost of Cleaning?
A couple of things will determine how much you're going to spend. The first being the size of the crawl space. Another thing is the condition of this space. A larger and dirtier crawl space will require more effort and more hours to clean than a smaller and cleaner space, and this will translate into high cleaning costs.
Likewise, if your crawl space is difficult to access, the cleaners could charge you more to compensate for the challenges they might face when cleaning it. Remember also this space may require basic repairs or basic fixes like sealing vents and replacing damaged joists or beams. Again, this will increase the costs of cleaning. When budgeting, remember to set aside at least an extra $2,000 to $4,000 to cover miscellaneous expenses. You never know what problem exists down there.
Eager to clean your crawl space or encapsulate it? Schedule a free crawl space inspection and find out what problems ail the below-the-ground area in your home. We're happy to provide you with written estimates along with solid recommendations to deal with existing problems.