Are you struggling with damp, moldy, or insufficiently insulated crawl spaces? Tar Heel Basement Systems has the answer to your concerns. As industry leaders, we understand the important role that a well-maintained crawl space plays in the overall health and safety of your home.
That's why we are proud to present ExTremeBloc™, a high-quality crawl space insulation solution that ensures your home remains dry, healthy, and energy-efficient. Let's explore how ExTremeBloc™ stands out in the market, its unique benefits, and why it's the go-to choice for homeowners across North Carolina.
ExTremeBloc™: Rethinking Crawl Space Insulation
The performance of your crawl space insulation is crucial in maintaining your home's health and comfort. Inadequate or poorly installed insulation can lead to issues such as moisture accumulation, mold, pest infestations, and excessive energy usage. Enter ExTremeBloc™ Crawl Space Insulation. This revolutionary product, exclusive to Tar Heel Basement Systems, goes beyond traditional insulation methods to offer optimal protection and energy efficiency.
ExTremeBloc™ combines graphite-impregnated insulation with an expanded polystyrene core and a radiant heat barrier surface. With this, your crawl space walls get a consistent R-value of 10, significantly enhancing the performance of your home's insulation system.
Why ExTremeBloc™?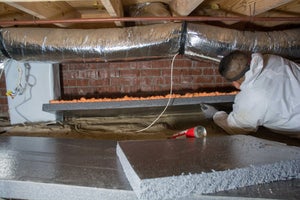 At Tar Heel Basement Systems, we're committed to providing our customers with the highest quality solutions. ExTremeBloc™ Crawl Space Insulation reflects this commitment. Its distinguishing feature is the infusion of tiny graphite particles into its foam insulation. These particles reflect heat and lower the material's conductivity, enhancing its R-value per inch.
Additionally, ExTremeBloc™ boasts a radiant barrier that reflects heat back into your crawl space, optimizing energy savings. It also resists moisture penetration, thereby reducing the risk of mold, pests, and decay in your crawl space.
Benefits of ExTremeBloc™ with Tar Heel Basement Systems
Choosing ExTremeBloc™ Crawl Space Insulation by Tar Heel Basement Systems offers an array of benefits for your home:
High energy efficiency: With its superior R-value, ExTremeBloc™ can reduce energy usage by 15-20% and bring your crawl space up to current national energy code.
Moisture resistance: By deterring crawl space moisture, ExTremeBloc™ reduces the risk of mold, fungus, and pests.
Stable thermal performance: The insulating value of ExTremeBloc™ remains consistent over time, offering long-lasting effectiveness.
Easy installation and maintenance: ExTremeBloc™ panels can be easily installed on crawl space walls and can be cleaned with ease.
Eco-friendly: Unlike other insulation products, ExTremeBloc™ is an eco-friendly solution that doesn't compromise on performance.
Pest and termite resistance: The panels are integrated with a termiticide during manufacturing, reducing the chances of pest infestation.
---
Learn More About Thermal Insulation with an Expert Team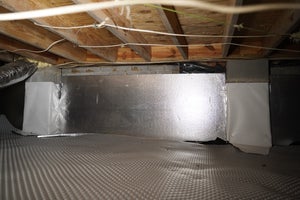 If you're interested in keeping your crawl space dry to help prevent mold, rot, and musty odors, this is the product for you! ExTremeBloc™ Crawl Space Insulation also creates a vapor barrier on your crawl space walls that keeps moisture from making its way into your crawl space, where that moisture would help mold, rot, and mildew growth.
ExTremeBloc™ Crawl Space Insulation is part of a crawl space repair system that includes our Floor Insulation and our CrawlSeal™ Vapor Barrier. We also have several crawl space waterproofing products, such as our SafeDri™ Sump Pump system to control flooding, our CrawlDrain™ Drainage System; the only drainage system made specifically for crawl spaces, and our durable CrawlSeal™ Drainage Matting.
Your home deserves the best, and at Tar Heel Basement Systems, we're committed to delivering just that. Allow us to transform your crawl space with our industry-leading ExTremeBloc™ insulation. If you're experiencing crawl space issues or if you wish to upgrade your current insulation, don't hesitate to contact us to schedule your free inspection today!
---