In the past, contractors frequently used a method known as mudjacking to lift concrete that had sunken into the ground.
Mudjacking is a costly and very invasive process that can take quite a while for the concrete to return to its original state.
For that reason, mudjacking isn't the ideal lifting method for concrete structures found in North Carolina.
At Tar Heel Basement Systems, we use a polyurethane foam injection called PolyRenewal™ which works better than mudjacking and other archaic approaches.
PolyRenewal™ effectively lifts concrete slabs to a more level, secure position and can be installed quicker and easier than other concrete lifting methods
Read on to learn more about how and why lifting concrete is beneficial for your property.
---
Why Concrete Sinks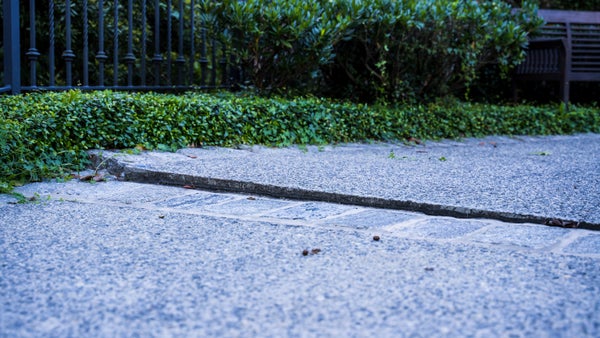 Over time, the concrete structures around your home will inevitably begin to sink.
The soil across Central North Carolina is mainly comprised of silty loam or clay, both of which don't provide the most stable ground for your heavy concrete.
In addition to soil instability, there are other factors that will lead to sinking concrete. These factors include:
Droughts which dry out and shrink the soil around and underneath your concrete
Excess rain or poor drainage that creates soil washout
Soil displacement caused by invasive tree roots
Soil was not prepared properly before concrete was installed
Improperly poured or mixed concrete during construction
When to Lift Concrete
It is more than just an eyesore if your driveway, pool deck, or sidewalk is sunken, cracked, or uneven. If left untreated, your concrete can become a dangerous hazard, resulting in trips and falls.
This is why it is so important to lift and stabilize your sunken or damaged concrete. So, if you notice cracks in your concrete, unevenness, and especially sunken slabs, then it is time to consider hiring a professional to lift your concrete.
Lifting Sinking Concrete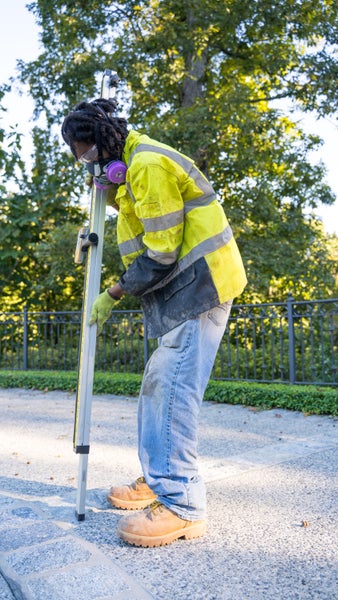 As mentioned above, we lift concrete by utilizing PolyRenewal™. This polyurethane foam is injected into strategically placed spots along your concrete. Once injected into the hole, the foam spreads to fill any voids between the concrete and underlying soil.
The foam will cure in 15 minutes, effectively lifting your concrete and making it possible for you to resume normal use of your driveway, sidewalk, or pool deck. This process is much quicker than mudjacking or completely replacing the slab, and it is much less invasive and noticeable that any work has been done on your concrete.
The complete process of our polyurethane injection involves:
Penny-sized holes are drilled in the sunken concrete slabs.
Injection ports are inserted into the holes.
Polyurethane foam is injected into the hole where it will spread to fill voids.
The foam cures in 15 minutes.
The injection ports are then sealed and smoothed over.
We do not recommend lifting your damaged concrete on your own, as there are many things in play that can go wrong.
With our PolyRenewal™ concrete lifting method, skilled technicians are trained to use all the tools involved to ensure your concrete lifts properly, such as injection guns and specialized polyurethane foam.
The answer depends on how severe the cracks are. If they are minor cracks, lifting the concrete can help reduce their appearance.
Plus, the concrete can even be lifted enough to eliminate a minor crack or cracks. However, if the crack is too severe, then the only way to fix it would be to completely replace the concrete.
Unlike older concrete lifting methods like mudjacking, our polyurethane foam solution is designed to be a less invasive fix to lifting your home's concrete.
The polyurethane foam is designed to last, filling voids and keeping your concrete elevated. This ensures that your concrete remains level for years to come.
Call Tar Heel Basement Systems for a Free Estimate!
It's unpleasant to discover damage around your house, such as cracked and sinking concrete. It may be even more appealing to avoid dealing with these concerns, and just go on like the damage isn't there.
Time, on the other hand, will not repair your sunken, cracked concrete. It is vital that they are properly checked out and mended the first time.
This is where industry professionals can help. Tar Heel's team has been lifting and stabilizing concrete for over 20 years and will make your property and its problematic concrete safer. Contact us for a free inspection at no obligation to you!