Commercial Concrete Lifting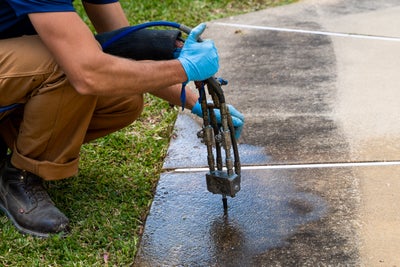 Damaged and unlevel concrete can cause significant complications for businesses, from impeding access to those with limited mobility to causing potential liabilities from trips and falls.
At Tar Heel Basement Systems, we're well-versed in these predicaments and offer a trustworthy, effective, and non-disruptive remedy via commercial concrete lifting services. Our advanced SettleStop™ PolyRenewal™ injections are versatile enough for a variety of concrete areas within your business, guaranteeing a durable fix and fortification.
Our long-standing history of working with commercial clients, enriched by extensive expertise and a commitment to excellence, ensures outcomes that stand the test of time. Opting for Tar Heel Basement Systems means choosing a legacy of quality and the added value of assured reliability.
Learn about our dedication to exceptional service, superior solutions, and meticulous attention to detail on this page.
How We Approach Commercial Concrete Lifting 
Tar Heel Basement Systems adopts a systematic and personalized strategy for commercial concrete lifting:
We begin with a comprehensive assessment and diagnostic tests to identify underlying issues and formulate a precise repair strategy.
Our minimally disruptive PolyRenewal™ foam injection system is then employed to lift the concrete with accuracy.
Our teams tackle the job methodically, treating each section systematically to optimize productivity while reducing operational interruptions.
We then seal any cracks and joints to safeguard the repairs against water ingress.
Clients have the option of subscribing to a maintenance plan designed to oversee and maintain the longevity of their investment.
Our specialized methods and heavy-duty equipment ensure that concrete restorations are not only enduring but also executed with remarkable efficiency and cost-effectiveness. It's this meticulousness and our dedication to superior service that sets Tar Heel Basement Systems apart as the preferred choice for our commercial partners.
[MEDIA]
What We Offer in Commercial Concrete Lifting 
Tar Heel Basement Systems provides innovative, tailored solutions to meet the specific repair needs of our commercial clients, including:
Sidewalk, parking lot, and driveway repair
Loading dock, ramp, and walkway lifting
Concrete step, stoop, and pool deck lifting
Porch, patio, and interior floor lifting and repair
Concrete slab lifting for warehouses and manufacturing plants
Custom new construction repairs
Preventative maintenance programs
In addition to correcting and elevating concrete, our services extend to post-stabilization sealing, guaranteeing that your commercial venue remains both secure and visually attractive. Tar Heel Basement Systems is equipped with the precise instruments and methods required to comply with ADA standards or to simply enhance the external charm of your property, ensuring the work is performed with excellence.H2: Signs Your Commercial Property Needs Concrete Lifting
Prompt detection and repair of concrete issues are essential. The following indicators suggest that your commercial property may require concrete lifting services:
Visible cracks or fissures in the concrete
Cracks wider than ¼"
Areas with crumbling concrete
Pitting, flaking, and staining on concrete surfaces
Concrete pulling away from the building
Visible voids or spaces underneath the concrete
Pooling water due to improper slope or drainage
Uneven or sunken slabs, causing trip hazards and liability concerns
Cracked or uneven sidewalks, walkways, parking lots, or driveways
Sinking porch, patio, ramps, steps, or pool decks
Hesitating on small repairs can lead to major costs down the road. Swift action on early signs is key to avoiding bigger issues later. Get in touch with a reputable concrete repair service such as Tar Heel Basement Systems for prompt resolution.
Benefits of Choosing Tar Heel Basement Systems for Your Commercial Concrete Lifting 
Tar Heel Basement Systems is committed to delivering high-quality, innovative solutions that ensure customer satisfaction.
Assured Quality and Dependability: Our products are put through extensive testing to meet the top standards of the industry.
Rapid and Environmentally Conscious: The PolyRenewal™ method offers quick, eco-friendly results.
Operational Excellence: Our team uses top-grade concrete lifting equipment to efficiently service extensive areas with minimal interruption to your operations.
Precision Installation: Our technicians provide meticulous installations, focusing on your property's structural integrity.
Durability of Service: We believe in comprehensive solutions—rigorous testing, superior materials, and regular maintenance underpin our long-lasting repairs.
Selecting Tar Heel Basement Systems allows you to benefit from our proprietary techniques and specialized concrete lifting products, designed with commercial needs in mind. Our innovative approach and modern products establish us as a leading choice for concrete lifting services.
Contact Tar Heel Basement Systems for Your Commercial Concrete Repair Needs Today!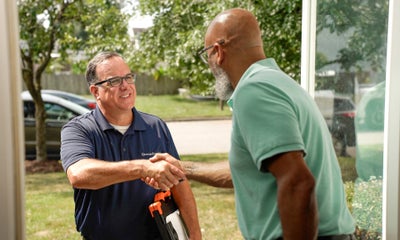 Avoid the potential financial pitfalls of damaged and irregular concrete. Your fix for these commercial concrete dilemmas is merely a phone conversation away. Rely on the exceptional service and outcomes provided by Tar Heel Basement Systems. Reach out to us today for a complimentary, obligation-free evaluation designed for commercial needs.
Our seasoned specialists are adept at promptly reinstating a secure and refined aesthetic to your premises. Armed with extensive commercial concrete repair expertise, we're prepared to serve your needs! Choose Tar Heel Basement Systems for dependable concrete repair.
FAQs
Yes, the PolyRenewal™ foam is environmentally friendly and sustainable. It is designed to be less disruptive to the surrounding landscape and safe for use in various environments. 
Absolutely. We can adjust and repair concrete surfaces to comply with the Americans with Disabilities Act (ADA) requirements, ensuring your property is accessible to all individuals. 
Our repairs are designed to be long-lasting. The PolyRenewal™ foam is durable and resistant to shifting and degradation. We also offer maintenance plans to extend the life of your repairs. 
Publish Date:
Last Modified Date: