Cracked Sidewalks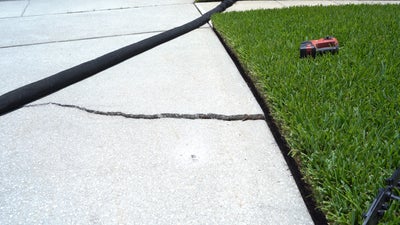 Even, stable concrete surfaces are essential for the safety and aesthetic appeal of your home. Cracked and sinking concrete sidewalk slabs, however, pose a multitude of threats.
These fractures may arise due to varied issues, such as changing weather patterns and faulty installation. A compromised sidewalk not only diminishes your home's street appeal but also introduces risks for pedestrians.
Tar Heel Basement Systems recognizes the issues and dangers associated with fractured concrete sidewalks. That's why we utilize our state-of-the-art SettleStop™ PolyRenewal™ concrete lifting methods to correct cracked and dipped portions of concrete sidewalks, ensuring a secure and visually appealing pathway for your residence.
By browsing this page, you'll gain insights into the reasons behind sidewalk fractures and learn why it's essential to swiftly tackle the problem using our specialized concrete lifting solutions.
What Is a Cracked Sidewalk?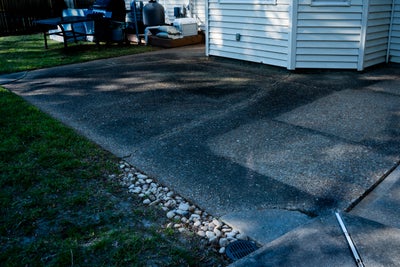 A cracked sidewalk manifests as noticeable breaks or separations in the concrete pathway, usually adjacent to a residential or commercial space.
These gaps can differ in their length, breadth, and depth, affecting the sidewalk's structural soundness. These separations are not merely cosmetic defects. They indicate deeper concerns, are an eyesore, and present significant tripping dangers, emphasizing the need for urgent repair and attention.
Cracked sidewalks may be accompanied by other damages such as:
Fractured concrete patios
Sinking porches
Cracked pool decks
If neglected, sidewalk fractures can multiply and intensify, leading to additional structural challenges and possible legal concerns for property holders. If these issues persist, the slabs continue to descend, resulting in the concrete becoming disjointed, misaligned, and elevated. This exacerbates tripping dangers and diminishes your property's visual appeal.
Reaching out to experts like Tar Heel Basement Systems is imperative for maintaining your property's security.
What Causes Sidewalk Cracks? 
Several reasons can contribute to sidewalk fractures, such as:
Underlying Soil: The soil underneath the concrete, when it settles or erodes, plays a significant role. The soil, which forms the concrete's base, when eroded or displaced, compromises the sidewalk overhead.
Tree Roots: Tree roots can exert upward pressure on the concrete. The expanding roots displace the soil and impose pressure on the concrete, resulting in fractures and elevation.
Weather Patterns: Drastic weather fluctuations, like prolonged rain or flooding, can erode the foundational soil. The freeze-melt cycle allows water to seep into minuscule cracks, expand upon freezing, and upon melting, intensify the damage.
Flawed Installation: Insufficient curing time, inadequate reinforcement, or an unstable foundational layer can lead to the formation of cracks.
The very factors that harm the sidewalk might also jeopardize your home's foundation. Properly identifying the root cause is critical for implementing a lasting solution and averting repeated damages.
Can You Fix a Cracked Sidewalk? 
Absolutely, cracked sidewalks are repairable, but a holistic solution is crucial to effectively address the underlying problem.
It's essential to understand that as these issues intensify, repair options become limited, underscoring the importance of early intervention.
Store-bought DIY remedies often fall short. Merely filling cracks with cement or using mudjacking techniques masks the evident symptoms. The root causes of the cracks remain unaddressed.
For dependable, long-standing sidewalk repairs, consult the expert concrete repair team at Tar Heel Basement Systems.
We offer comprehensive solutions that go beyond mere surface-level fixes. We address the core issue, preventing any future recurrence. Our unique SettleStop™ PolyRenewal™ technique can elevate, stabilize, and rejuvenate descending, cracked concrete sidewalk slabs.
How to Fix a Cracked Sidewalk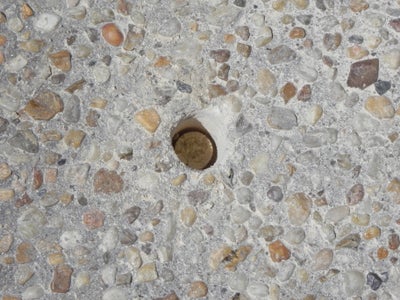 Tar Heel Basement Systems employs the sophisticated PolyRenewal™ method to rectify cracked and unlevel sidewalks. Here's how it operates:
Our team performs a thorough evaluation, pinpointing the factors causing the cracks and determining the ideal solutions like PolyRenewal™.
We then drill small, penny-sized openings into the affected areas.
We insert injection ports into the holes.
We blend together our proprietary two-part polymer foam.
Next we pump the foam underneath the sunken slabs through the ports.
The foam expands rapidly, filling voids, and hardens in 15 minutes.
The sidewalk slab is lifted and the soil underneath is stabilized.
Our team then removes the injection ports and patches the drilled holes.
We then seal all cracks and joints to prevent future water damage.
We are available to check periodically and maintain the sidewalk to maximize durability.
Our custom-made polyurethane foam is designed for precise and rapid sidewalk elevation. Compared to traditional mudjacking, PolyRenewal™ is less invasive, superior to complete slab replacements, and resists erosion and displacement.
Why Address Sidewalk Cracks Now 
Addressing cracked, uneven sidewalks without delay is crucial due to:
Accident Prevention: Uneven sections can lead to tripping hazards.
Avoid Legal Liability: Cracking, dangerous sidewalks can result in liability issues.
Long-term Cost Efficiency: Issues causing the cracks can worsen over time, leading to expensive repairs, such as full sidewalk replacement, if left unaddressed. Early professional repairs prevent costly future damages.
Property Valuation: Unsightly sidewalks can lower your home's market value. Prospective buyers seek hassle-free pathways.
For a thorough resolution to cracked sidewalks, opt for Tar Heel Basement Systems. Our unparalleled solutions offer benefits that other alternatives can't match.
Reach Out to Tar Heel Basement Systems for Trusted Concrete Lifting Solutions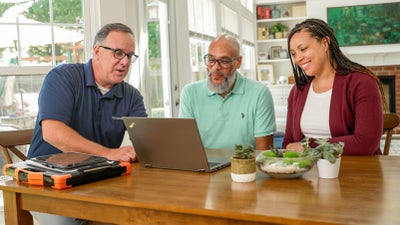 Neglected damaged sidewalks can escalate problems. Mitigate the dangers and unsightliness of fractured sidewalks with Tar Heel Basement Systems. Our revolutionary methods ensure your sidewalks' durability and beauty.
With over 20 years of experience serving homeowners across North Carolina, we're the trusted name for concrete lifting. Residents rely on our exceptional customer service and cutting-edge repairs. Contact us today to schedule a complimentary, no-obligation evaluation, and allow us to restore not only the safety but the beauty of your home.
FAQs
Indeed, even slight fractures can escalate if overlooked, as they might signal deep-seated structural problems. These cracks can expand, spread across the concrete, destabilize the slab, and result in irregularities. Identifying the root cause and implementing the appropriate solution is essential. Avoid makeshift repairs and reach out to Tar Heel Basement Systems for a complimentary evaluation and advice on enduring solutions. 
Absolutely, SettleStop™ PolyRenewal™ is a green solution, causing zero disruptions to the surrounding ecosystem. This material doesn't erode from underneath the concrete, nor does it leach into the groundwater. It's designed to be a durable and environmentally conscious option. In contrast to traditional mudjacking, PolyRenewal™ has a longer lifespan and doesn't contribute to further soil compression, which can be detrimental to the environment. 
No, the advantage of using the SettleStop™ PolyRenewal™ method is its longevity and durability. Once the underlying issues causing the cracks and sinking have been addressed, and the PolyRenewal™ procedure is done, your sidewalk should remain stable for many years. Regular maintenance and checks can further extend the lifespan. 
Publish Date:
Last Modified Date:
Explore more problem signs