WallSeal™ Basement Wall Vapor Barrier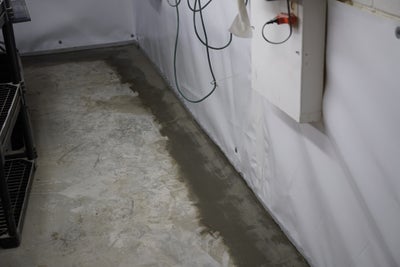 If you've noticed a damp, musty smell in your basement, you might just think it's a normal part of life in North Carolina. However, wet basements have a long history of causing both health issues and structural problems if ignored. Ideally, your basement should be a dry and well-ventilated space that you can enjoy year-round, even in North Carolina. The good news is effective solutions exist.
By integrating basement wall vapor barriers with other advanced basement waterproofing solutions, moisture can be effectively kept out of your basement. Renowned for our expertise in moisture management, Tar Heel Basement Systems proudly installs the AquaStop WallSeal™ Basement Wall Vapor Barrier as a key measure to safeguard your home from water damage.
Read on to gather valuable knowledge on resolving your basement moisture problems permanently.
What is the AquaStop WallSeal™ Vapor Barrier? 
The AquaStop WallSeal™ Vapor Barrier is a robust, 12-mil thick solution created to obstruct moisture infiltration in your basement walls.
Once permanently affixed to the wall, it channels any leakage into our AquaStop BasementGutter™ interior drainage system, providing instant relief from damp walls. This finish-ready vapor barrier integrates seamlessly as part of a comprehensive home solution for optimal living conditions.
Combining this vapor barrier with additional waterproofing solutions—including a sump pump and dehumidifier—results in a holistic system that not only protects your property but also elevates your home's value.
Signs You Need a Basement Wall Vapor Barrier 
If you experience the following common basement issues, your home might greatly benefit from a vapor barrier:
Procrastinating on addressing these warning signs or delaying repairs could result in structural damage and pose health risks. It is imperative to promptly consult with a local basement waterproofing expert like Tar Heel Basement Systems upon detecting any issues in your basement.
Is a Basement Wall Vapor Barrier Necessary?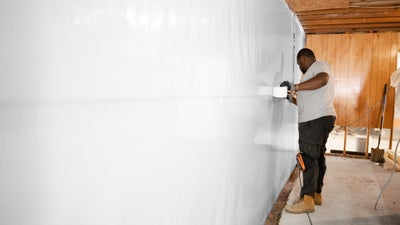 Incorporating a basement wall vapor barrier is fundamental for a thorough basement waterproofing strategy.
Even in the absence of visible cracks or leaks in basement walls, moisture can gradually permeate through due to the porous nature of concrete, leading to invisible dampness, and in high volume, pouring down the walls to damage flooring and other property. Neglecting such issues allows further water damage to transpire, making future repairs more intricate and expensive.
Address the problem proactively by implementing a vapor barrier. The WallSeal™ Vapor Barrier serves as a foundational element in our whole-home solution, assuring every part of your home stays dry and healthy.
What Are the Benefits of the WallSeal™ Vapor Barrier? 
Our resilient vapor barrier brings forth several benefits, including:
Long-lasting Protection: Crafted from top-grade materials, our barrier promises consistent, permanent protection.
Healthier Living Space: The reduction of humidity and prevention of mold growth culminate in a healthier living environment for your household.
Eliminate Musty Basement Odors: The WallSeal™ vapor barrier stops moisture and water vapor, addressing the root of damp, musty smells. When used in conjunction with a dehumidifier, it significantly improves basement air quality.
Protect Your Possessions: Beyond flooding, persistent dampness can degrade stored items, damage valuables, and deform wood. WallSeal™ preserves a dry ambiance, safeguarding your belongings.
Restore Property Value: A well-maintained, dry basement substantially boosts your property's resale value.
To maximize the benefits of the AquaStop WallSeal™ vapor barrier, it is crucial to ensure proper installation. The skilled technicians at Tar Heel Basement Systems utilize proprietary products and techniques to deliver the driest, healthiest basement possible.
How the AquaStop WallSeal™ Vapor Barrier Works 
Once a specialist from Tar Heel Basement Systems evaluates your basement and determines the necessity of the AquaStop WallSeal™ Vapor Barrier, it is meticulously installed along with our other state-of-the-art waterproofing solutions.
The process encompasses the following steps:
Clean and prepare walls
Securely affix sheets of WallSeal™ to the walls
Set up interior drainage and install the remaining components
Place a sump pump at the lowest point in the basement
Connect the interior drainage to the sump pump
Introduce a basement dehumidifier
Once the system is installed it should run seamlessly with regular maintenance checkups. Here's a rundown of how the integrated system operates:
Water seeping through the basement walls is redirected behind WallSeal™.
WallSeal™ guides the leaking water to the interior drainage system.
The water in the drains is channeled to the sump pump.
The sump pump expels the accumulated water.
The dehumidifier addresses any residual basement moisture.
With the installation of these pivotal water management components by Tar Heel Basement Systems, you are assured of a professional and trustworthy solution.
Why Our Basement Wall Vapor Barrier is the Best Choice for Your Home 
The WallSeal™ Vapor Barrier stands out from competing vapor barriers due to its:
Superior, 12-mil thick material for ultimate moisture defense.
Waterproof and mold-resistant composition.
Permanent adherence to walls to avert leaks.
Seamless amalgamation with our complete waterproofing system.
Comprehensive warranty protection.
Availability of annual maintenance plans.
Generic vapor barriers from big-box stores are typically thin and fail to address the root causes of basement moisture effectively. The WallSeal™ is a proprietary product of Tar Heel Basement Systems, assured to be instrumental in maintaining a dry basement.
Contact Tar Heel Basement Systems for Basement Wall Vapor Barrier Solutions Today!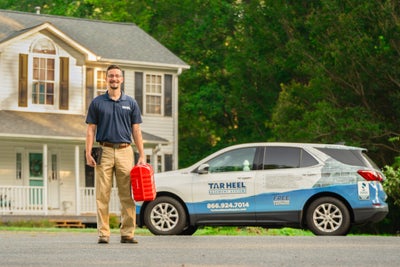 There's no need to endure a damp, humid basement any longer. Upgrade your home's defense with our vapor barrier and a comprehensive basement waterproofing system from Tar Heel Basement Systems. Reach out to us today for a complimentary, no-obligation inspection and estimate.
For years, we have been assisting homeowners across North Carolina in restoring and fortifying their basements. Our commitment to customer service and our unique products are unrivaled. Place your trust in us to rejuvenate your home's well-being and restore your peace of mind. 
Publish Date:
Last Modified Date: