AquaStop™ Basement Sump Pumps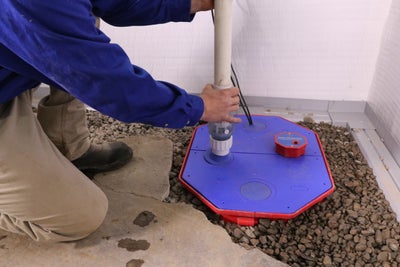 For homeowners in North Carolina, a damp basement can spell disaster – damaging belongings and potentially leading to costly repairs and diminished property value. Tar Heel Basement Systems is here to help with our reliable AquaStop™ Sump Pumps, ensuring your basement remains dry and creates a healthier home.
With extensive experience serving homes across North Carolina, we are committed to providing outstanding customer service and top-of-the-line basement waterproofing solutions.
In this article, we'll explore the essential role of a solid sump pump system and how AquaStop™ can be the perfect solution to your basement moisture issues.
What is an AquaStop™ Sump Pump System? 
The AquaStop™ Basement Sump Pump System is a cutting-edge appliance strategically located at the lowest point of your basement. It is expertly designed to collect water from an interior drainage system and redirect it away from your home's foundation, thus preventing basement flooding and potential structural damage.
AquaStop™ Sump Pumps are equipped with advanced features such as a water alarm, sump liner, airtight lid, and durable cast iron pumps, ensuring reliability and optimal performance. With regular maintenance, an AquaStop™ sump pump promises a continually dry basement.
Identifying the Need for a Basement Sump Pump 
It's crucial to recognize the signs that indicate the need for a sump pump:
If you observe any of these signs, immediate action is required. Contact Tar Heel Basement Systems promptly to prevent further damage and escalating repair costs, and to ensure the safety of your home.
The Necessity of a Sump Pump 
Indeed, a sump pump is essential – it forms the foundation of your basement waterproofing system. Without it, water collected by the drainage system could lead to mold, mildew, and structural degradation.
Proactive measures can prevent the hassle of addressing more significant future issues. Furthermore, AquaStop™ Sump Pumps can be seamlessly integrated into a comprehensive home solution, emphasizing the importance of a secure and healthy living environment.
Diverse Options of AquaStop™ Sump Pumps 
Recognizing that every home is unique, we are proud to offer a variety of sump pump systems tailored to your specific needs.
AquaStop™ Basement Single 
Featuring a sturdy SafeDri™ cast iron pump, this single pump system is ideal for standard water removal. Choose between the SafeDri™ ⅓ hp or ½ hp pump, depending on your requirements.
AquaStop™ Basement Single with Battery Backup 
This model comes with a battery backup, ensuring operation even during power failures and has the ability to discharge substantial volumes of water on battery power.
AquaStop™ Basement Triple 
The ultimate protection system, AquaStop™ Basement Triple, features three pumps – the primary SafeDri™ ⅓ hp pump for regular use, a secondary SafeDri™ ½ hp pump for handling higher volumes, and a third battery backup pump for situations with power outages.
Our skilled technicians will assess your specific needs and recommend the most suitable AquaStop™ system for your home.
Advantages of AquaStop™ Sump Pump System 
Opting for a reliable sump pump system like AquaStop™ offers numerous benefits:
Assured Basement Dryness: Efficient water removal prevents flooding and dampness.
Comprehensive Protection: Compatibility with other waterproofing solutions such as interior drainage and dehumidifiers.
Reliable Pumping Capability: Multiple redundancy levels and battery backup options ensure dependability.
Long-lasting Defense: Designed for enduring operation, with available annual maintenance plans.
Tar Heel Basement Systems is your trusted partner for all basement waterproofing needs in North Carolina, delivering customized solutions and unmatched expertise. Schedule your free inspection today!
The Working Mechanism of AquaStop™ Sump Pumps 
Once our specialists at Tar Heel Basement Systems have determined that an AquaStop™ sump pump system is the best fit for you, the installation process includes:
Identifying the basement's lowest point
Preparing the floor for the sump liner
Installing the interior drainage system
Connecting drains to the sump basin
Positioning pumps and components in the sump liner
Installing interior and exterior discharge pipes
Electrical hookup and battery backup installation, if applicable
Testing the system and finalizing the installation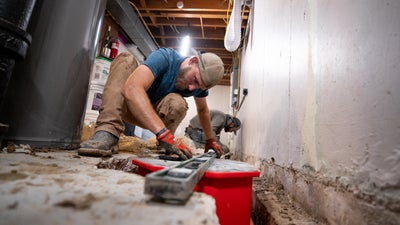 This thorough process ensures that your basement stays dry and safe.
Why Choose Our Sump Pumps for Your Home? 
AquaStop™ sump pumps stand out for their:
High-quality cast iron pumps
Water alarm and airtight lid
Multiple levels of protection
Compatibility with other solutions
Battery backup options
Comprehensive warranty
Annual maintenance service plan
Trust Tar Heel Basement Systems for unmatched sump pump systems and integrated home solutions in North Carolina.
Reach Out to Tar Heel Basement Systems for Sump Pump Solutions!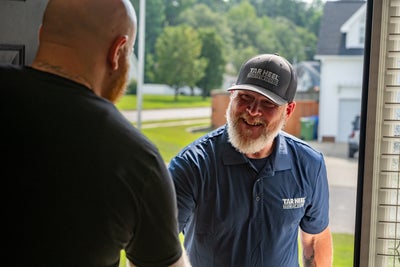 Don't let a leaky basement get you down. Tar Heel Basement Systems is here to assist you through stormy weather with our reliable sump pumps and comprehensive basement waterproofing solutions. Contact us today for a free inspection and estimate.
We are familiar with the diverse weather conditions in North Carolina and are dedicated to helping you protect your home from water intrusion. Our AquaStop™ sump pumps are sturdy and dependable, ensuring that your home stays dry for years to come.
FAQs
The installation time for an AquaStop™ Sump Pump System can vary depending on the specific conditions and requirements of your basement. On average, the installation process can be completed within one day. Our team at Tar Heel Basement Systems works diligently to ensure a swift and efficient installation, minimizing disruption to your daily routine. 
AquaStop™ Sump Pump Systems are designed for longevity and reliability, with an average life expectancy of 7-10 years. Regular maintenance and prompt attention to any issues that may arise can help extend the life of the system. Tar Heel Basement Systems offers annual maintenance service plans to ensure that your sump pump system continues to operate effectively and protect your home for years to come.
Yes, AquaStop™ Sump Pump Systems are designed with noise reduction in mind, ensuring they operate as quietly as possible. The system features an airtight lid and high-quality components to minimize vibration and noise. However, it's normal to hear some operational sounds, especially when the pump is actively removing water during wet conditions. Our team at Tar Heel Basement Systems can provide tips on further reducing any noise if needed. 
Publish Date:
Last Modified Date: