AquaStop FreezeGuard™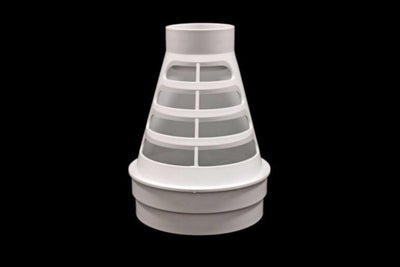 If you've installed a sump pump to protect your home from flooding, it's important to know the heightened risk during winter months. The effective functioning of your sump pump relies on clear, unblocked lines. Frozen lines can cause backflow of water into your home, resulting in extensive flooding, a situation that many homeowners across North Carolina encounter. However, frozen discharge lines don't have to compromise your basement's safety with AquaStop FreezeGuard™.
Tar Heel Basement Systems offers the AquaStop FreezeGuard™, a winter-proof attachment that guarantees your basement remains dry. This innovative product is an integral part of our comprehensive basement waterproofing solution. This page will guide you through a thorough understanding of AquaStop FreezeGuard™, highlighting its benefits and its necessity, especially during the chilly winter months.
What is the AquaStop FreezeGuard™? 
The AquaStop FreezeGuard™ by Tar Heel Basement Systems is a state-of-the-art attachment, connecting to your sump pump system's exterior discharge line just outside your home. Serving as a secondary escape route for water, it actively prevents backflow and basement flooding, thus reducing the risk of sump pump failure. When a blockage or freezing occurs in your discharge line, the water is redirected to the FreezeGuard™, ensuring a safe release, away from your home and foundation where it could cause damage.
This ingenious attachment is a crucial part of Tar Heel Basement Systems' comprehensive whole-home solution, incorporating advanced basement water management systems. When paired with a properly installed waterproofing system, the AquaStop FreezeGuard™ offers complete protection against water-related damages.
Signs You Need the FreezeGuard™ Attachment 
This specialized attachment proves to be invaluable when your basement faces the following winter challenges:
Regular formation of ice around the foundation or discharge area
Strain or noise emanating from the sump pump
Historical issues with frozen discharge lines
Efflorescence on basement walls or floors
Regardless of the source, moisture in the basement can result in severe damage affecting both the structural integrity of your home and the health of its inhabitants. If you observe any of these issues, it is imperative to contact our experts at Tar Heel Basement Systems for a free inspection and repair estimate.
Is an Anti-Freeze Exterior Sump Pump Discharge Line Attachment Necessary?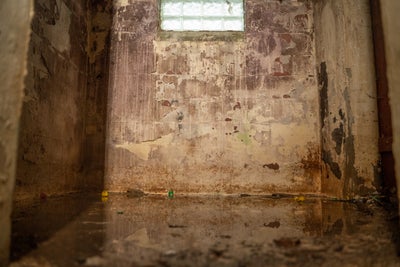 For homes that are prone to experiencing frozen discharge lines, an anti-freeze discharge line attachment like the AquaStop FreezeGuard™ is essential. Failing to install a backup measure can lead to recurring basement flooding each winter, with ensuing issues such as mold, mildew, structural damages, and loss of personal possessions.
Being proactive is the key. Safeguard your home with the FreezeGuard™ attachment from Tar Heel Basement Systems. This preventive measure is a prudent investment, saving you from the financial burden of future water damage repairs.
What Are the Benefits of the AquaStop FreezeGuard™? 
AquaStop FreezeGuard™, offered by Tar Heel Basement Systems, brings forth a multitude of benefits including:
Preventing Pipe Freezing: The FreezeGuard™ ensures that water continues to flow out, preventing backflow even if the line freezes, thereby keeping your sump pump operational and your basement dry throughout the winter season.
Protecting Your Foundation: The FreezeGuard™ helps in avoiding flooded basements due to frozen discharge lines, thereby safeguarding your foundation from the detrimental effects of water over time.
Providing Peace of Mind: If your basement has flooded before, you're familiar with the anxiety that accompanies obsessively checking your basement each time it rains or snows. With the installation of FreezeGuard™, homeowners can rest easy with the assurance that their basements are protected from flooding risks associated with frozen discharge lines.
To achieve optimum results, it is vital that the FreezeGuard™ is installed professionally, adhering to our tried-and-tested techniques. The specialists at Tar Heel Basement Systems customize the FreezeGuard™ installation using premium quality materials, ensuring durability and peak performance.
How the AquaStop FreezeGuard™ Attachment Works 
The FreezeGuard™ attachment is a pivotal component of Tar Heel Basement Systems' all-encompassing basement waterproofing system. The installation process of this multifaceted solution includes:
Comprehensive inspection by a Tar Heel Basement Systems expert
Application of a vapor barrier to the basement walls
Installation of an interior drainage system within the basement's sub-floor
Positioning a sump pump at the basement's lowest point
Connection of the drains to the sump pump
Routing of internal discharge pipes to the sump pump
Exit of pipes through the basement wall
Attachment of exterior sump pump discharge pipes
Connection of the FreezeGuard™ to the exterior pipes
Extension and burial of the discharge pipes in the ground, leading to a specified outlet
Testing of the sump pump and FreezeGuard™ attachment
Installation of an energy-efficient dehumidifier in the basement
Our team is made of industry leaders in basement waterproofing across North Carolina. You can trust Tar Heel Basement Systems to ensure minimal disruption to landscaping or underground utilities during installation. Our meticulous FreezeGuard™ installation process is engineered for enduring performance, guaranteeing unparalleled quality and effectiveness.
Why Tar Heel Basement Systems' AquaStop FreezeGuard™ Attachment is the Best Choice for Your Home 
Tar Heel Basement Systems stands out as the provider of choice for anti-freeze discharge line attachments, courtesy of its distinctive features such as:
Custom design and superior build quality
Proven effectiveness in extreme temperature conditions
Hassle-free installation
Warranty protection
Inclusion in our annual maintenance service plan
Contact Tar Heel Basement Systems for Tailored Basement Waterproofing Solutions Today!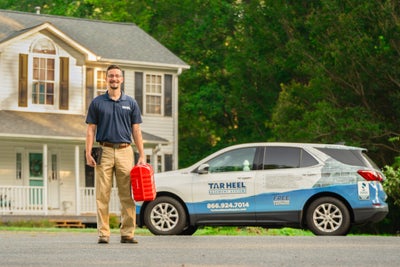 Experiencing a flooded basement is always inconvenient, more so in the winter season. Do not leave the safety of your home to chance. Fortify your basement with the proven AquaStop FreezeGuard™ from Tar Heel Basement Systems.
Get in touch with us today for a complimentary inspection and estimate. Our waterproofing experts will conduct a thorough assessment of your home and propose customized solutions, including the indispensable FreezeGuard™ attachment. Invest in the long-term well-being and comfort of your home today.
Publish Date:
Last Modified Date: