BasementGutter™ Interior Drainage System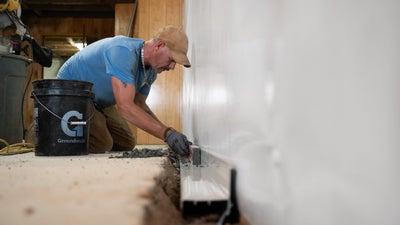 Battling a damp, leaky basement can be a distressing experience for any homeowner. It poses risks to a healthy living environment and jeopardizes the structural stability of your home.
Enter Tar Heel Basement Systems' AquaStop Basement Gutter™ Interior Drainage System—a robust, enduring remedy to your basement water problems. As the eminent authority in basement waterproofing across North Carolina, we deliver a personalized drainage solution fitting your requirements.
This page sheds light on why our uniquely crafted interior drainage system is the prime choice for securing a dry basement and safeguarding your home.
What is AquaStop Basement Gutter™ Interior Drainage?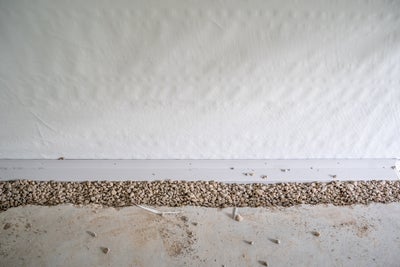 At Tar Heel Basement Systems, we recognize the challenges homeowners face when traditional drainage systems fail, leaving you with a waterlogged basement.
That's where our superior alternative comes in. AquaStop Basement Gutter™ Interior Drainage is a cutting-edge system positioned along the interior perimeter of your basement. It adeptly channels water from walls or seeping through joints to your sump pump for expulsion.
Positioned above the footing and beyond the "mud zone", its installation assures an anti-clog design. A 3/8" wall flange directs any wall seepage into the AquaStop BasementGutter™ system.
This system is an integral component of a holistic home waterproofing strategy, promising you tranquility and a healthier living environment.
Signs You Need Interior Drainage
Observing any of the following signs necessitates considering an interior drainage system:
Neglecting these signs can lead to escalated damage and hefty repair bills. Upon noticing these issues, promptly reach out to a trusted local professional like Tar Heel Basement Systems.
Is Interior Drainage Necessary?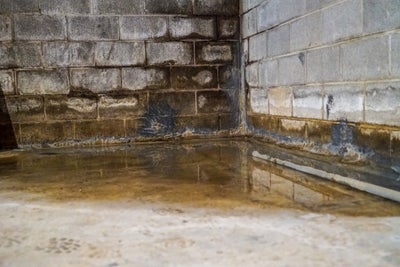 If you have water seeping into your basement that your sump pump fails to expel, the answer is unquestionably, yes. Overlooking the need for an effective interior drainage system can usher in a plethora of issues, including structural impairments and escalated repair expenses.
DIY remedies and makeshift fixes are discouraged as they often result in more complications and expenses. Trusting experienced professionals like the team at Tar Heel Basement Systems is the prudent approach.
Integrating AquaStop Basement Gutter™ into our comprehensive solutions ensures the durability and safety of your property.
Benefits of AquaStop Basement Gutter™ Interior Drainage System
Water Damage Prevention: Efficiently collects and redirects water, protecting belongings and inhibiting mold.
Compatible with Other Solutions: The drainage channels are designed to be installed with our other basement waterproofing solutions. We can also integrate other basement repair and foundation repair systems with it.
Extends Life of Foundation: By keeping water away from concrete walls and floors, BasementGutter™ protects your foundation from deterioration and cracking.
Provides Peace of Mind: Reliable system ensuring water management, giving you the confidence that your basement will stay dry despite the weather.
Maximizing these advantages necessitates the adoption of our specialized solutions and services, engineered to surpass generic offerings, granting you optimal protection.
Installing AquaStop Basement Gutter™ Interior Drainage
Post-inspection and system necessity confirmation, our certified installation comprises:
Excavating 6-12 inches of concrete around the interior perimeter.
Drilling weep holes for water drainage.
Positioning BasementGutter™ and backfilling with stone.
Applying a vapor barrier.
Connecting channels to the sump pump.
Reflooring with cement.
Our holistic approach includes a wall vapor barrier, dehumidifier, and an anti-freeze exterior sump pump discharge line attachment.
Trust Tar Heel Basement Systems for proficient installation and enduring solutions.
Why Choose Our Interior Drainage?
AquaStop Basement Gutter™ Interior Drainage System outshines competitors due to:
Installation beyond the "mud zone"
Innovative anti-clog design
Comprehensive water collection
Seamless integration with other components
Backed by extensive warranty
Protected by annual maintenance service plans
Unlike alternatives that clog and deteriorate, AquaStop Basement Gutter™, exclusive to Tar Heel Basement Systems, remains a reliable solution, securing a dry basement for years.
Contact Tar Heel Basement Systems for Interior Drainage Solutions!
Protect your home's value and safety with our dependable solutions. Reach out today for a complimentary, no-commitment inspection.
We have been the go-to for homeowners in North Carolina for over 15 years, offering ultimate protection for your most valuable asset. We are here for you!
FAQs
Water intrusion can be due to wall or floor cracks, seepage, internal leaks, or inadequate landscaping and gutters. Reach out to Tar Heel Basement Systems for a complimentary assessment and recommended solutions. 
Costs vary based on basement size and required materials. We offer complimentary assessments, upfront pricing, and financing options, ensuring clarity on expenditures. Contact us for more details. 
No, our system is designed for minimal maintenance, covered by our annual service plan. Contact Tar Heel Basement Systems for more information and to schedule your system's annual upkeep. 
Publish Date:
Last Modified Date: