Cracked Driveway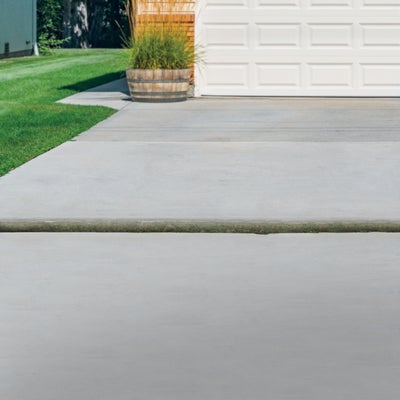 While it may be a common sight, a cracked driveway is something homeowners should not overlook. Not only does it diminish your home's visual appeal, but it also poses significant risks to your property and the safety of your family.
Those with mobility challenges might trip over the uneven slabs or cracks in the driveway, and such imperfections can also damage your vehicle and potentially your home's foundation.
Tar Heel Basement Systems stands as your dependable ally in tackling this widespread concern, offering cutting-edge, dependable concrete lifting techniques that deliver both effectiveness and durability. Our unwavering dedication to excellence ensures homeowners can take solace in the renewed safety and aesthetics of their residences.
This page offers insights into the reasons behind cracked driveways and how our concrete lifting solutions can proficiently address your driveway issues.
What Is a Cracked Driveway? 
A cracked driveway is characterized by a concrete surface showing signs of wear, fractures, or breaks over its lifespan. These blemishes can range from small, nearly invisible hairline cracks to more prominent and distinguishable splits.
Cracked driveways not only detract from aesthetics but can also be potential hazards, leading to unfortunate trips, falls, and potential injuries.
If you're observing cracks in your driveway, your property might be facing other related issues like:
Cracked sidewalks
Cracked concrete patio
Dropping porch
Cracked pool deck
Cracked driveways often result from several factors, requiring the expertise of professional services—such as Tar Heel Basement Systems—to curb any potential dangers and preempt further deterioration. We urge you to reach out at the earliest sign of these issues.
What Causes Driveway Cracks?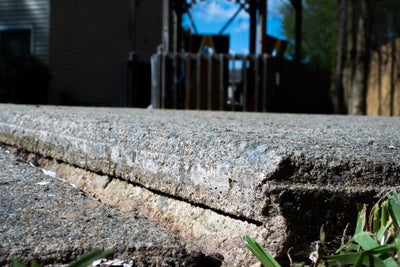 Several elements can lead to cracks in concrete driveways, including:
Soil Issues: Underlying soil that settles or erodes can lead to uneven stress and result in cracking.
Trees: Roots from trees growing close to or underneath the driveway can exert upward pressure, causing cracks.
Weather Factors: Excessive rainfall or flooding can erode and weaken the soil beneath.
Temperature Fluctuations: The freeze-thaw cycles enable water to infiltrate cracks and expand upon freezing. Natural expansion and contraction of concrete with changing temperatures can also induce cracking.
Construction Concerns: Inadequate pouring or curing of concrete during its initial installation can predispose driveways to damage.
Vehicle Weight: Vehicles, whether compact cars or large trucks, apply considerable weight, straining both the concrete and underlying soil. Over time, this can lead to cracking and settling of sections.
These very elements affecting your driveway can also jeopardize your home's foundation, underlining the importance of timely consultations with foundation repair specialists like Tar Heel Basement Systems to identify and implement the most effective remedies.
Can You Fix a Cracked Driveway? 
Absolutely, cracked concrete driveways can be mended and restored to near-original conditions. However, as cracking progresses and expands, it narrows down the repair alternatives available. Hence, it's crucial to have your driveway evaluated and fixed at the first indication of a problem.
Simply sealing the cracks with filler materials, using traditional mudjacking methods, or repouring concrete might only offer temporary relief.
For a more lasting solution, it's essential to tackle the underlying causes, such as unstable soil conditions. Concrete lifting emerges as the optimal remedy, elevating sunken sections while stabilizing the driveway. Tar Heel Basement Systems employs specialized treatments to ensure long-term results, instilling confidence in every repair executed.
How to Fix a Cracked Driveway 
Tar Heel Basement Systems' accredited concrete driveway repair regimen involves:
A thorough initial assessment to pinpoint the cause and ascertain the ideal repair approaches, such as our proprietary SettleStop™ PolyRenewal™ solution.
Drilling diminutive holes in the affected driveway portions.
Installing injection ports in these holes.
Mixing a dual-component, closed-cell polymer foam.
Administering this foam beneath the driveway slabs.
As the foam expands, it fills any gaps and sets within 15 minutes.
The concrete section rises, and the soil underneath gains stability.
Removal of injection ports, followed by the filling and smoothing of drilled holes.
Application of a sealant to cracks and joints to thwart further deterioration.
Regular upkeep and observation of your concrete driveway.
At Tar Heel Basement Systems, we leverage our line of refined products, such as PolyRenewal™, tailored to address distinct issues effectively, standing out from traditional solutions. This unique polyurethane foam solution is crafted to elevate concrete with speed and precision. PolyRenewal™ treatments are superior in durability to mudjacking and cause minimal disturbance compared to slab replacement.
Why Address Driveway Cracks Now 
Addressing driveway cracks promptly is crucial for:
Preventing Additional Damage: Early interventions can avert more significant structural complications.
Safety Reasons: Ignored cracks can culminate in severe safety threats, causing mishaps and injuries. Larger cracks can impede walking or driving, while thinner cracks can ensnare heels or bike tires.
Property Valuation: A well-maintained driveway boosts both the curb appeal and the value of your property.
Economical Repairs: Procrastination only escalates the extent of repair work and associated costs.
Avoid makeshift solutions. Our PolyRenewal™ system can rejuvenate your driveway, offering stability to cracked and uneven concrete. Reach out to Tar Heel Basement Systems now to schedule your complimentary inspection.
Connect with Tar Heel Basement Systems for Trustworthy Concrete Lifting Solutions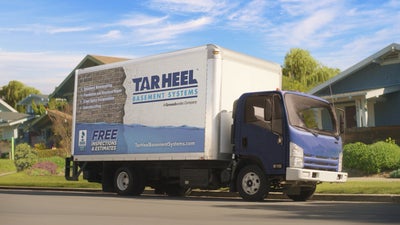 Don't allow a fractured driveway to undermine your home's safety and charm. If your driveway displays cracks, depressions, or irregularities, Tar Heel Basement Systems' concrete experts stand ready to assist. Get in touch today to schedule your a no-obligation inspection and quote.
Understanding the frustrations homeowners face with cracked driveways, we proudly present top-tier, reliable concrete lifting treatments that endure the challenges of time. Our PolyRenewal™ innovation can elevate and stabilize sinking concrete slabs efficiently, ensuring impeccable results.
Publish Date:
Last Modified Date:
Explore more problem signs