Wet Insulation
Insulation is an important system for any healthy home, as it regulates temperatures throughout the structure. When moisture gets into your crawl space, the insulation can get wet and damaged in the process.
Schedule Free Inspection
Every healthy home depends on insulation to maintain energy efficiency around your home, and to control temperature around your home. In homes with a crawl space foundation, insulation is often located below the home. Crawl spaces are susceptible to water damage from many different sources, each of which can also lead to wet insulation – a problem for your entire home. Tar Heel Basement Systems has crawl space solutions that keep your entire crawl space dry, including your insulation.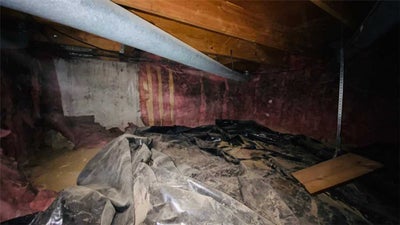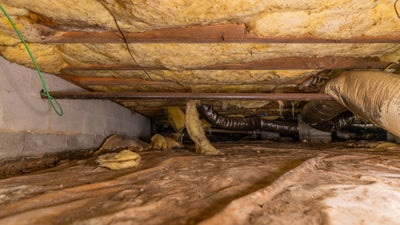 Understanding the Issue: Wet Insulation
The insulation in your crawl space is crucial in ensuring the space remains dry and healthy. However, when this insulation becomes damp, it becomes less effective. This ineffectiveness can cause problems such as rising energy expenses, potential structural harm, and degraded indoor air quality.
Here are some typical signs that your insulation is damp:
Wet or soaked insulation: If the insulation in your crawl space feels wet or is soaked, it's likely that there's an issue with excessive moisture.
Musty scent: An odor that resembles mold or mildew often suggests the presence of these organisms, which flourish in moist conditions.
Cold floors: Damp insulation can compromise your home's energy efficiency, leading to colder floors in the winter or an overused air conditioner in the summer.
Visible signs of mold or pests: Damp insulation can provide a hospitable environment for the growth of mold and pests. Over time, these issues may become visibly apparent.
Drooping or fallen insulation: Insulation that has soaked up water becomes heavier, which can lead to it drooping or falling away from walls or ceilings.
The Underlying Causes of Wet Insulation
Wet insulation is a direct cause of moisture in your crawl space. Here are the most common ways that water gets into this vital area below your home and disturbs the functionality of your crawl space insulation. 
Poor water management: If your home doesn't have a well-designed drainage system or a properly working gutter and downspout setup, rainwater can accumulate around your foundation and gradually permeate your crawl space.
Elevated humidity: The warm and humid climate of North Carolina can lead to condensation buildup in your crawl space, resulting in moisture-laden insulation.
Issues with plumbing: Water leakage from plumbing pipes passing through your crawl space can lead to your insulation becoming damp.
Inadequate vapor barrier: A lack of a suitable vapor barrier can allow moisture from the soil to evaporate into your crawl space, resulting in damp insulation.
The Stack Effect: This refers to the phenomenon where warmer air rises and exits through upper levels of the house, causing a vacuum that pulls cooler air (and potentially damp air) into the lower levels, including your crawl space. Over time, this can lead to moisture problems and wet insulation.
Choose Tar Heel Basement Systems: Your Crawl Space Solution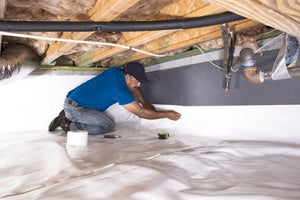 At Tar Heel Basement Systems, we are committed to identifying and resolving problems from their origin. Our team conducts comprehensive inspections of your crawl space to pinpoint the source of your damp insulation. Based on our findings, we propose customized solutions that may encompass fixing plumbing leaks, enhancing drainage, or implementing a new vapor barrier.
In response to damp insulation issues, we suggest ExTremeBloc™ Crawl Space Insulation, an exceptional product specifically designed to resist moisture and deliver substantial energy savings. ExTremeBloc™ goes beyond being a temporary fix; it's a long-term commitment that will keep your crawl space dry and healthy for years ahead.
Damp insulation is not just a minor nuisance; it indicates deeper problems that can impact the entire health of your home. If you suspect the presence of damp insulation in your crawl space, don't hesitate to get in touch with the experts at Tar Heel Basement Systems. Contact us today for a free inspection, and let us assist you in safeguarding your home's stability, health, and energy efficiency.
Wet insulation is pretty easy to identify. First of all, look for visible water droplets on the surface of the insulation. Obviously, this is a clear indication that it is wet. However, sometimes the moisture seeps into the insulation material. When this happens, you might notice sagging or collapsed sections of damp insulation hanging from the top of your crawl space. Also, look out for any sections of insulation that might be on the ground of your crawl space. Moisture makes the insulation heavier, so this is a likely sign that the insulation is wet.
It definitely could. Mold is almost synonymous with moisture, and this harmful fungus just needs humidity and organic material to thrive. Since crawl spaces often provide these conditions, mold easily grows on or around your wet insulation. This can become a major problem for you and your family because mold spores are dangerous to human health. Mold spores could spread into your home and cause respiratory issues or grow in other places such as bathrooms or closets. Make sure when looking out for wet insulation that you wear protective gear in case of mold and mildew.
Call a professional. While handy homeowners might be willing to remove wet insulation, we don't recommend anyone try this on their own with a DIY project. Pretty much any type of insulation is made with fiberglass, a material that can cause problems for your skin or eyes if it comes into contact with them. Without the proper protective gear, you'll be putting your health at risk. Moreover, crawl spaces are tricky to work in. We have trained professionals that know how to traverse this tight area with skill. Your crawl space could become more damaged with even the slightest wrong move. We care about your safety, so when it comes to removing wet insulation, we recommend contacting a professional service like Tar Heel.
Services
Date & Time
Contact Info
Complete
Schedule Your Free Inspection
What do you need help with?