Cracks in Basement Floors and Walls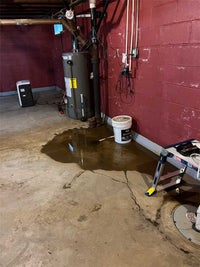 Notice cracks creeping across your basement floors and walls? While these cracks may seem insignificant initially, they can indicate more severe foundation problems later if not addressed. 
If these cracks go untreated, they can pose a risk to your basement's structural safety and can serve as entry points for moisture. Tar Heel Basement Systems is committed to helping homeowners across North Carolina understand and tackle these issues with certainty.
Throughout this guide, we will provide insights into the nature of these cracks and effective strategies for their prevention.
What Are Basement Floor and Wall Cracks?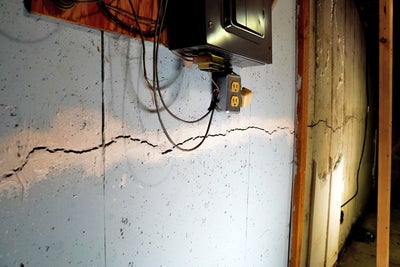 Basement floor and wall cracks are irregularities in the concrete surfaces that could indicate stress or pressure on the structure. They may vary in size, pattern, and location but all require professional assessment in order to dismiss or address any potential threats.
Prompt action is crucial to avoid potential flooding and structural issues. Our trained team meticulously inspects all observable cracks to provide the most suitable solutions.
Why Do These Cracks Form? Recognizing the Causes 
There are multiple factors contributing to the formation and expansion of these cracks. Our professionals will help you understand these causes during the inspection:
Hydrostatic Pressure 
Pressure from groundwater can cause upward force, leading to cracks in basement floors and walls. This may occur after heavy precipitation or after snow melts in some areas. In the spring, it's a good idea to keep an eye on basement floors for cracks.
Concrete Curing 
Freshly poured concrete can sometimes shrink as it dries, causing cracks. With proper measures, the curing process should strengthen the concrete, but improper mixing, exceptionally wet or dry conditions, or failing to meet code requirements can lead to faults that will crack when put under stress.
Soil Settling 
Erosion or settling of the earth beneath the foundation can cause uneven support, triggering cracks. All homes settle to some degree after building, but when the settling leads to substantial cracks in the basement floor, it should be addressed.
Understanding these causes allows us to tailor our repair methods precisely.
Is Repair Possible? 
Absolutely! With advances in repair technology, you don't have to overhaul your entire basement due to cracks. Partner with us to reinforce your basement and seal any cracks effectively.
At Tar Heel Basement Systems, we offer a variety of reinforcement strategies to prevent future cracking. With our warranty-backed solutions, your basement will stay safe, dry, and structurally sound.
1. Inspection 
The first step in your comprehensive repair process is the inspection. This is a critical phase where your team thoroughly evaluates the basement floor and wall cracks. The primary objectives of this step are to identify the cracks' characteristics, dimensions, and potential underlying causes. This comprehensive assessment allows our team to develop a tailored repair strategy.
2. Reinforcement 
After the inspection, the next phase involves reinforcement. This step is all about strengthening the weakened areas to prevent future cracks and enhance the structural integrity of the basement.
Structural reinforcements are also vital in bolstering the basement's stability. Depending on the severity of the cracks and the structural requirements, your team might implement strategies such as installing steel braces, anchors, or carbon fiber strips. These reinforcements provide additional support to the weakened areas and distribute the structural load more evenly, reducing the likelihood of future cracks.
3. Waterproofing 
The final step of your repair process is waterproofing. This step is crucial for maintaining the longevity of the repairs and preventing moisture-related issues. Basement environments are often prone to dampness and water infiltration, which can exacerbate cracking and compromise the structural integrity of the foundation.
Internal drainage systems play a significant role in waterproofing. These systems are designed to manage and redirect water that may seep into the basement. By guiding water away from the foundation, you can prevent hydrostatic pressure from building up, which can lead to cracks.
Dehumidifiers are essential components in preventing moisture accumulation. High humidity levels can contribute to a damp environment, promoting mold growth and further weakening the structure. Dehumidifiers work by removing excess moisture from the air, maintaining a drier and healthier basement atmosphere.
Vapor barriers are used to impede moisture from permeating through walls and floors. These barriers are often made from materials resistant to water vapor transmission. By preventing moisture from seeping through, you can significantly reduce the risk of future cracks and related problems.
Risks of Delaying Repairs 
Ignoring even small cracks can result in escalating repair costs and pose risks to your home's structural integrity. Don't put your home or family at risk. Tar Heel Basement Systems offers timely and effective solutions to resolve existing cracks and prevent future ones.
Contact Tar Heel Basement Systems for Reliable Crack Solutions in North Carolina 
Cracks in your basement floors and walls require immediate action. With Tar Heel Basement Systems, you'll receive expert advice and proven solutions. Contact us today for a complimentary evaluation and put an end to your basement concerns! 
FAQs
While it's possible to cover up minor cracks with flooring materials, it's not a permanent solution. Cracks can still widen beneath the surface, potentially causing issues over time. It's best to address cracks before applying any floor coverings.
Remember, when dealing with basement floor cracks, it's important to prioritize safety and consult professionals for accurate assessment and repairs.
Yes, cracks in basement floors can potentially allow water to seep through, especially if they are not properly sealed. Water infiltration can lead to dampness, mold growth, and further damage. Implementing waterproofing measures alongside crack repairs can mitigate this risk.
When you choose Tar Heel Basement Systems, you can trust us to bolster your home against future threats. Preventing cracks involves addressing underlying causes and implementing preventive measures. Proper drainage systems, maintaining consistent humidity levels, and ensuring the soil around the foundation is well-compacted can all contribute to preventing future cracks.
Publish Date:
Last Modified Date:
Explore more problem signs