Collapsing Retaining Wall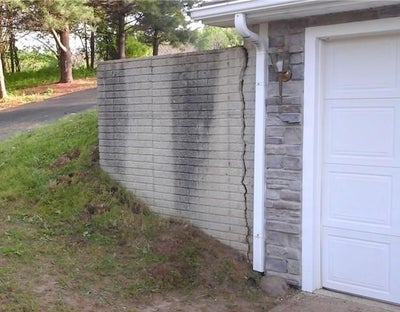 Retaining walls are more than mere landscape markers; they play an indispensable role in safeguarding the structural framework of your home.
When they display indications of wear or potential collapse, it's beyond mere looks. It's a pressing safety alarm that can also significantly diminish your property's worth.
For years, Tar Heel Basement Systems has been the trusted name for countless homeowners across North Carolina, offering unparalleled expertise and long-standing foundation solutions to fortify vulnerable retaining walls.
After reading this page, you'll understand what's behind retaining wall damage and how to prevent further dangers with professional intervention.
What Is a Collapsing Retaining Wall?
A collapsing retaining wall is a structure that has lost its ability to hold back the soil and substrate it was designed to support.
Tell-tale signs of a weakening retaining wall include:
Distinct cracks
Observable leaning or tilting
Complete failure or collapse
Such troubles can result in soil washing away or even land shifting. Neighboring foundation or basement walls might also bear the brunt of a shaky retaining wall, thus putting your entire foundation in jeopardy.
The retaining wall's purpose is to hold the lateral pressure of soil, making sloping areas usable for gardens, driveways, or terraces. A failing wall not only puts this leveled area at risk but poses a considerable safety challenge.
What Can Weaken a Retaining Wall?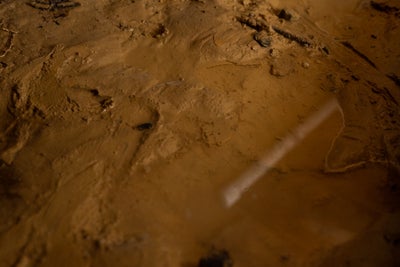 Factors leading to a compromised retaining wall include:
Poor Construction: Subpar materials, poor design, or a weak foundation beneath the wall can expedite its degradation.
Hydrostatic Pressure: Persistent force from expansive soil can sometimes overcome the wall's resistance.
Water Buildup: Inadequate drainage might cause water to gather behind the wall, amplifying the stress.
Soil Erosion: Continual soil wear at the wall's foundation affects its steadiness.
Tree Roots: Persistent tree roots can disturb the soil and might even breach the wall.
Natural Forces: Tremors or seismic shifts can unsettle the wall.
Wear and Tear: Over time, materials break down, impacting their ability to bear weight.
To properly mend and ensure enduring stability for your retaining wall, it's crucial to pinpoint the core issue. Tar Heel Basement Systems conducts in-depth, complimentary inspections to diagnose these triggers and suggest an optimal restoration strategy.
Can Tar Heel Mend a Vulnerable Retaining Wall?
Absolutely. Even significantly compromised retaining walls can be rejuvenated and bolstered to prevent more damage. Genuine stabilization is about addressing the root causes, not just the symptoms.
Temporary measures like adding soil or sealing cracks with concrete or sealant don't bring lasting relief.
For genuine stability and possibly realigning a retaining wall, integrated strategies are paramount. We aim to reinforce foundational integrity, manage excess moisture, and bolster wall resilience through our tailored methods. Trust Tar Heel Basement Systems to deliver proven, guaranteed solutions for retaining wall repairs.
Our Approach to Stabilizing Retaining Walls
At Tar Heel Basement Systems, we recognize that every home has distinct needs. Here's our fundamental blueprint to tackle unstable retaining walls:
Comprehensive Inspection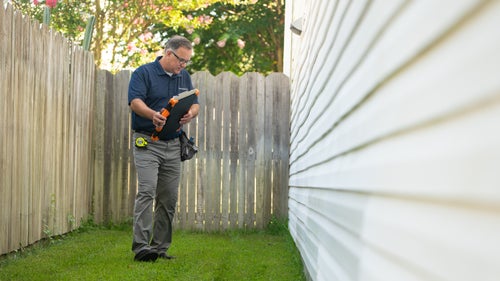 Our adept team inspects the state of your home and the troubled retaining wall during a no-cost evaluation. After determining the cause, we suggest remedial actions that cater to your specifications and financial considerations.
Wall Reinforcement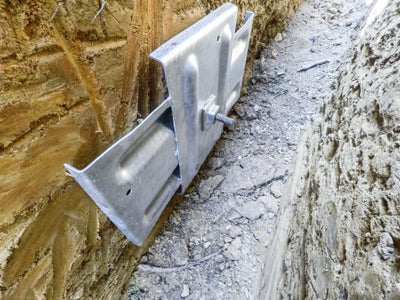 Utilizing durable wall anchors, we assure permanent wall stability, halt any further deterioration, and might even enhance its state. Our method includes:
Digging several feet away from the retaining wall
Drilling a hole in the retaining wall
Advancing a connecting rod through the hole
Embedding an earth anchor plate in the excavated area
Attaching the rod and earth anchor plate
Placing a wall plate on the retaining wall
Connecting the wall plate and rod
Backfilling excavated dirt
Tightening the wall plate and rod for potential wall improvement
Improving Drainage
Effective external drainage tools like gutter systems are crucial in directing surplus water away from homes and structures like retaining walls.
Tar Heel Basement Systems brings specialized solutions that surpass generic market offerings. Our tools promise superior performance, ensuring longevity and effectiveness.
Why Tend to a Vulnerable Retaining Wall Promptly?
Acting swiftly at the onset of wall issues is vital:
Further deterioration can lead to catastrophic collapse and property damage.
Leaning walls create safety hazards and are unsightly.
Poor drainage from a damaged wall can cause flooding issues.
Surrounding landscaping, patios, or structures may become unstable.
Foundation and basement walls can suffer the same damage and instability.
Repairs only get more complicated and expensive over time.
A failing retaining wall can drastically reduce your property value.
Choose not to compromise with quick fixes. Tar Heel Basement Systems' comprehensive solution keeps your environment secure and purposeful. Our industry-leading guarantees echo our confidence in ensuring the task is impeccably done from the outset.
Reach Out to Tar Heel Basement Systems for Expert Wall Solutions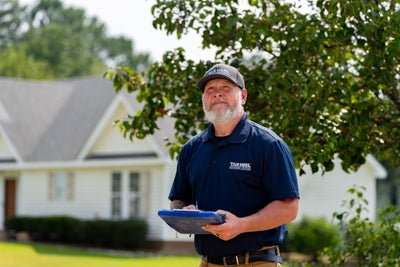 If your retaining walls hint at any distress, contact Tar Heel Basement Systems for a complimentary inspection. Our seasoned specialists will gauge the extent of wear and craft a tailored plan to assure permanent wall stability.
Boasting extensive experience in fortifying unstable retaining walls across North Carolina, you can bank on our team to support your property's structural needs. We prioritize your safety and peace of mind, underscored by our long-standing guarantee. Get in touch today for meticulous attention to your retaining walls.
Publish Date:
Last Modified Date:
Explore more problem signs