Why Are There Bowing Basement Walls in My North Carolina Home?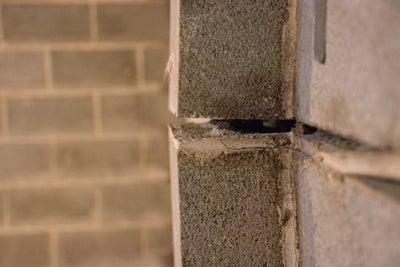 Your basement walls should stand erect and firm, not on the verge of tumbling down.
Bowing basement walls frequently cause concern among homeowners, and rightfully so. They serve as a warning sign that indicates potential hazards. At Tar Heel Basement Systems, we recognize that bulging basement walls signify severe structural problems that need prompt action.
With our extensive guide, you'll be well-equipped to tackle bowing basement walls, safeguarding your home's value and safety.
What is a Bowing Basement Wall?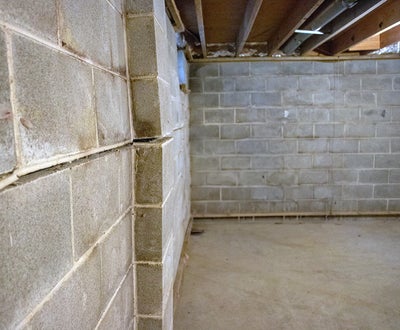 Just like the name suggests, a bowing basement wall appears to protrude or shift inward. This is especially noticeable in the wall's center, but the entire structure is often affected to varying degrees. Far from being merely an eyesore, this damaging phenomenon goes beyond cosmetic issues and represents a significant structural concern that needs immediate attention.
You might also spot:
Horizontal Wall Cracks: These are usually the first indication of stress on your basement walls. They often occur midway up the wall and stretch across its length.
Stair-Step Cracks in Block Walls: Particularly common in walls made of concrete blocks or bricks, stair-step cracks follow the mortar joints in a zigzag pattern.
Diagonal Cracking at Corners of Poured Concrete Walls: When you see diagonal cracks originating from the corners of your basement walls and stretching towards the center, it's a sign that the wall is subjected to uneven pressure.
Why Do Basement Walls Bow?
Several elements can force basement walls to unnaturally protrude or bow over time, including the following:
Inadequate Drainage and Water Management
North Carolina's varied climate ensures we see our fair share of rain. Proper measures like gutters, downspouts, and extensions must be in place to manage this water. When these drainage measures become clogged or fail to function properly, the soil around the basement walls becomes saturated, which then exerts undue pressure on the walls.
Soil Composition and Hydrostatic Pressure
Certain soils, such as those found in some regions of North Carolina, can expand and retract with moisture variations, exerting undue force on basement walls. This force, termed hydrostatic pressure, induces bowing and cracks over time.
Cyclical Freezing and Thawing
Seasonal freeze-thaw cycles in North Carolina can impact the structural health of your basement walls, causing them to crack and bow, especially when water within them expands and contracts.
Foundation Displacement
Through no fault of the homeowner, shifting or settling foundations are a distinct issue often rooted in soil conditions. This settling can exacerbate bowing basement walls, forcing them out of alignment.
Subpar Wall Construction
Unfortunately, not all construction projects meet the industry's best practices or follow the building codes meticulously. Occasionally, walls might not have been built up to code, leaving them more susceptible to bowing.
Can Tar Heel Basement Systems Fix Bowing Basement Walls?
Absolutely. While distressing, most bowing walls can be repaired. Diagnosing each issue is crucial. At Tar Heel Basement Systems, we expertly determine the exact cause of your bowing basement walls, offering solutions tailor-made for your situation.
How We Repair Bowing Basement Walls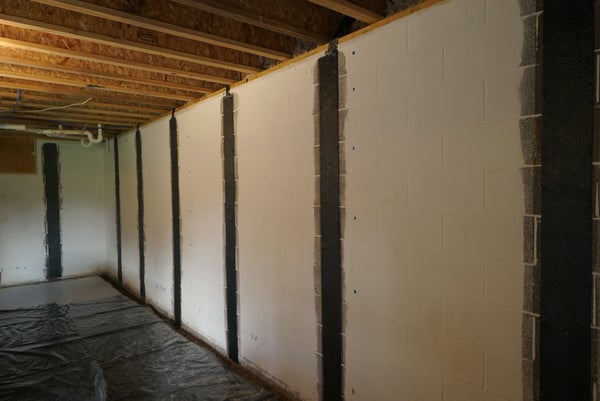 Understanding that each home is unique, we at Tar Heel Basement Systems offer a range of customizable solutions tailored to fit your specific needs. Reinforcing bowed walls isn't just an option; it's a necessity to maintain the structural integrity of your home.
Carbon Fiber Reinforcement: These straps bond to wall surfaces, offering tensile strengthening against bowing forces.
Steel Beams: Adjustable steel supports bolster walls, stabilizing bowed regions.
Wall Anchors: Anchors bolt from the inside out, providing a bulwark against inward bowing.
Channel Anchors: These are designed to stabilize bowing or tilting walls by anchoring them securely to stable soil away from the foundation, offering yet another layer of security and peace of mind.
Further, moisture management is crucial. This involves drainage enhancements and advanced basement waterproofing techniques, ensuring walls remain safe from moisture-induced harm.
Tar Heel Basement Systems uses superior materials, surpassing typical store alternatives, and addresses root causes comprehensively.
Why Address Bowing Walls Now?
Ignoring bulging basement walls can have dire consequences:
Rapidly Deteriorating Walls
Increased water intrusion
Compromised structural support
Possible wall collapse
Invasive and Expensive Repairs
Tar Heel Basement Systems offers homeowners thorough evaluations and specialized reinforcement options. We remove wall bulges and prevent potential damage.
Contact Tar Heel Basement Systems for Trustworthy Bowing Wall Solutions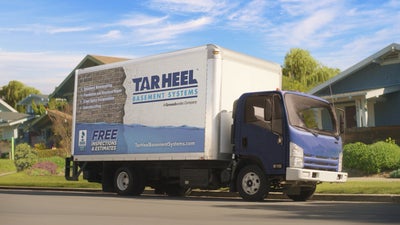 Avoid escalating problems and unnecessary risks. At Tar Heel Basement Systems, we employ state-of-the-art diagnostics and top-tier wall reinforcement techniques to restore your home's structural health.
Seek no short-term remedies. Contact Tar Heel Basement Systems for proven methods to rectify bowing basement walls at the root. Schedule your free inspection now!
Bowing Basement Wall FAQs
Early signs of bowing basement walls can include horizontal cracks midway up the wall, stair-step cracks in block walls, and diagonal cracks at the corners of poured concrete walls. If you notice any of these, it's crucial to seek a professional evaluation immediately. 
Preventing bowing basement walls involves proper water management, soil stabilization, and ensuring your walls are constructed to code. Routine maintenance checks and installing adequate drainage systems can go a long way in preventing this issue. 
The cost of repairing a bowing basement wall can vary widely depending on the severity of the bow, the methods used for repair, and the condition of the soil and drainage around your home. It's always best to get a professional evaluation for an accurate estimate tailored to your specific situation. At Tar Heel Basement Systems, we offer free inspections to provide you with a detailed quote. 
Publish Date:
Last Modified Date:
Explore more problem signs