Cracked Bricks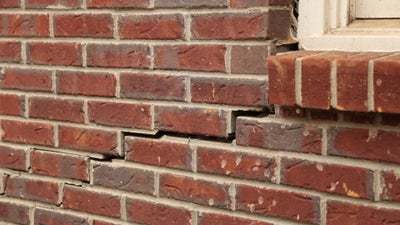 Cracked bricks can indicate significant issues with your home's foundation beyond just being a cosmetic issue. It is important to address these issues promptly to prevent any further damage to your property.
At Tar Heel Basement Systems, we understand the concerns homeowners across North Carolina face when it comes to the stability of their homes. Our goal is to provide quick, efficient, and personalized foundation repair solutions to put your worries to rest.
You can count on Tar Heel Basement Systems to solve your cracked brick issues.
What are Cracked Bricks?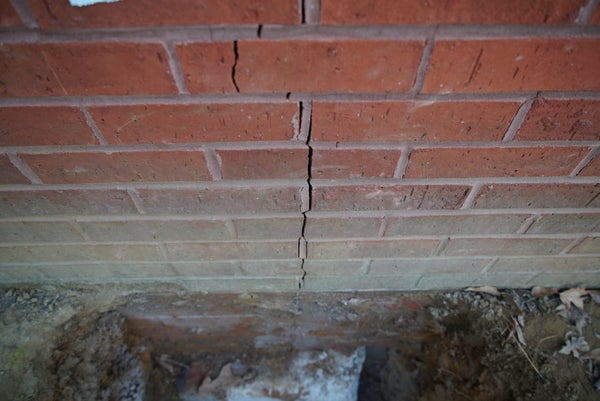 Exterior brick cracks manifest in several ways: from stair-step patterns along mortar lines to hairline fractures or even large gaps. These are not mere cosmetic issues; they are a serious signal that your home may be undergoing foundation issues.
What Causes Cracked Bricks?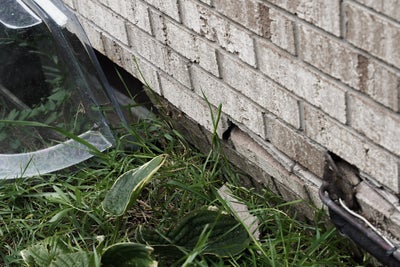 The appearance of cracks in bricks can be attributed to stresses that affect your home's foundation. Several key factors are usually involved:
Foundation Settlement: The soil in North Carolina can be particularly challenging, ranging from sandy loam to dense clay. This diversity in soil composition can accelerate foundation settlement, placing undue stress on your brick walls
Tree Roots: It's not uncommon for homeowners to plant trees near their homes for shade or aesthetic reasons. However, as these trees grow, their root systems can extend beneath your foundation, exerting pressure and creating instability.
Soil Fluctuation: The varying weather conditions in North Carolina can cause soil to expand and contract. When this fluctuation is not uniform, it can lead to uneven pressures on your foundation, which then gets transferred to your brick walls.
Is Repairing Cracked Bricks Possible?
Absolutely. Tar Heel Basement Systems has the experience and expertise to tackle this issue head-on. It's critical to understand that repairing cracked bricks isn't a one-size-fits-all process. The first step in any repair is a thorough evaluation to identify the root causes. DIY fixes like sealants or mortar repair may offer temporary relief, but they don't resolve the underlying issues. Only a comprehensive diagnosis and tailored repair strategy can ensure long-lasting stability.
How to Repair Cracked Bricks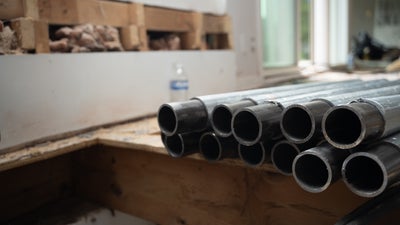 With Tar Heel Basement Systems, we employ industry-leading techniques and materials to ensure your foundation is as stable as possible. For instance, our helical and push piers are made of galvanized steel to resist corrosion, providing a permanent foundation repair solution you can count on.
Other solutions that can address the root issues of foundation damage include:
Wall Anchors – Steel anchors are embedded in the foundation walls and bolted into solid soil outside. This counters inward bowing and cracking.
Carbon Fiber Wall Reinforcement – We bond carbon fiber straps to bowing basement walls using epoxy. The exceptional tensile strength stabilizes brick walls.
Why Address Cracked Bricks Now?
Ignoring small brick cracks today can lead to a host of more significant issues down the line. Here's why you should act now:
To Avoid More Costly Damage: Earlier intervention can save you more complicated and costly repairs in the long term.
To Prevent Moisture Intrusion: Cracks can act as entry points for water, leading to mold growth and wood rot.
To Restore Home Value: Crumbling brick walls riddled with cracks not only make your home less attractive to potential buyers but can imply to them that the house has bigger issues. Structural repairs can help contribute to your property's value.
Contact Tar Heel Basement Systems for Your Cracked Brick Issues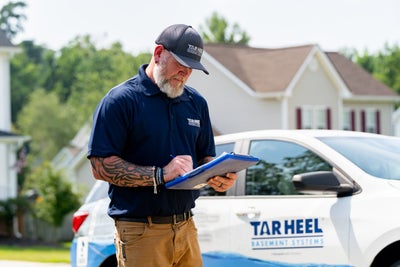 If you notice cracked bricks on your North Carolina home, don't wait. Contact Tar Heel Basement Systems to schedule a free inspection and same-day estimate. Our expert team will provide durable solutions to stabilize your home's foundation and brick walls. Act now; your home's stability is too important to wait.
FAQs
Cosmetic cracks are usually surface-level and do not show any pattern. They are often caused by minor issues like mortar shrinkage and can be easily repaired. Structural cracks, on the other hand, tend to follow a pattern such as a stair-step crack along the mortar joints, and they may widen over time. These cracks are a red flag indicating foundation issues and require immediate professional attention. If you're unsure, it's always best to consult with experts like Tar Heel Basement Systems for a comprehensive evaluation. 
While older homes are more likely to experience foundation settlement, new homes are not immune to it. The soil in North Carolina can be prone to issues with expansion and settlement, and external factors like heavy rain or drought can affect soil stability regardless of your home's age. So, even if your home is relatively new, don't rule out the possibility that a cracked brick could be signaling a foundation issue. 
First, don't panic. Take photographs of the cracks for future reference and to monitor any changes over time. Next, restrict heavy activity near the affected area to prevent further damage. Contact Tar Heel Basement Systems for a free inspection and same-day estimate. Our experienced team will assess the situation and provide tailored solutions to address the root cause of your cracked bricks and stabilize your foundation. 
Publish Date:
Last Modified Date:
Explore more problem signs