Leaking Basement Windows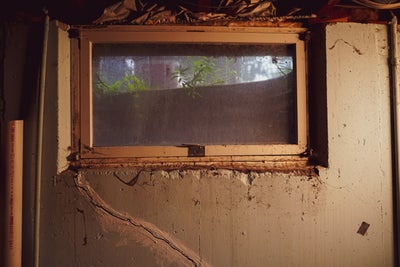 While basement windows are crucial for natural light and ensuring safe emergency exits, they do come with challenges. Leaking basement windows are a frequent issue but can result in several health and safety risks, putting your home and health in jeopardy.
Tar Heel Basement Systems is dedicated to helping you overcome these challenges, providing innovative, lasting solutions. Specializing in holistic basement waterproofing systems, we address the core issue to assure homeowners in North Carolina of their safety and security for years to come.
Let this guide illuminate the causes, repercussions, and remedies for leaking basement windows, aiding you in safeguarding your home effectively.
Defining Leaking Basement Windows 
Leaking basement windows are those that allow water infiltration into the home, typically identified by:
Visible moisture
Water stains
Accumulated water around the window frame
Given water's propensity to find the path of least resistance, aging or impaired basement window systems are especially vulnerable. Related issues often include:
Recognizing these signs necessitates immediate contact with basement waterproofing experts like Tar Heel Basement Systems for a thorough assessment and timely intervention.
Causes Behind Leaking Basement Windows 
Several factors contribute to leaking basement windows, including:
Material Decay: Common window materials such as wood, metal, and vinyl are susceptible to decay.
Poor Installation: Inadequately installed windows can form gaps, enabling water entry.
Age: Aging windows tend to be less effective, becoming more prone to leaks.
Drainage Complications: Ineffective drainage around basement windows results in water accumulation and leakage.
External Pressure: Hydrostatic pressure from the surrounding soil can force water through even minor openings.
Climate Conditions: The diverse climate of North Carolina, with its heavy rainfall and varying temperatures, can escalate the issue.
Correctly identifying the source of the leak is vital, making expert diagnosis and comprehensive inspections from Tar Heel Basement Systems essential.
Solutions for Leaking Basement Windows 
Addressing leaking basement windows necessitates more than a makeshift repair. Tar Heel Basement Systems believes in a holistic approach, offering extensive basement waterproofing systems that target the root of the problem to ensure a dry and safe living environment.
Tar Heel Basement Systems' Method for Repairing Leaking Basement Windows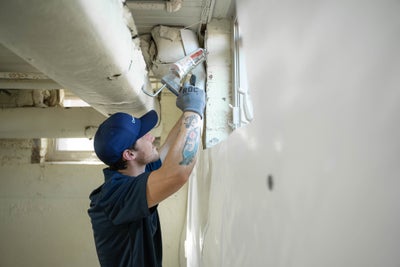 Here's what homeowners in North Carolina can expect from our approach:
Dehumidification: Our energy-efficient dehumidifiers maintain optimal humidity levels, hindering mold growth and eliminating odors. Structural Reinforcement: We utilize stabilizing solutions to prevent further wall movement and the formation of cracks that lead to leaks. 
Our specialized solutions are devised to permanently rectify leaking basement windows and are customized to address the unique challenges of each home.
The Necessity of Addressing Leaking Basement Windows 
Acting promptly to address leaking basement windows is essential to:
Prevent Mold Growth
Enhance Energy Efficiency
Maintain Structural Integrity
Safeguard Personal Belongings
Increase Property Value
Tar Heel Basement Systems is committed to providing innovative, long-lasting solutions to ensure the well-being and safety of homes across North Carolina.
Choose Tar Heel Basement Systems for Dependable Basement Waterproofing Solutions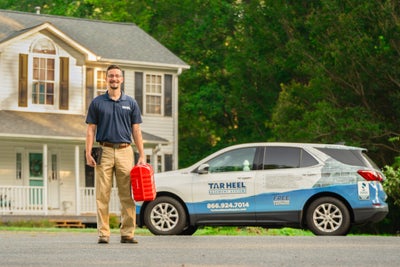 Don't let leaking basement windows jeopardize your home and tranquility. Tar Heel Basement Systems, serving North Carolina homeowners with integrity and expertise, is your trusted partner in ensuring a healthier, drier home. Contact us today for a complimentary, no-obligation inspection, and take the initial step towards a secure and comfortable living environment.
With years of experience serving the North Carolina community, we pride ourselves on our commitment to exceptional customer service and reliable, effective solutions. Join our community of satisfied homeowners in creating a safer, healthier living space.
FAQs
Addressing leaking basement windows maintains the structural integrity of the home, prevents mold growth, improves energy efficiency, and safeguards personal belongings, thereby contributing to an increase in property value. 
Not all leaking basement windows necessarily need to be replaced. The necessity for replacement depends on the severity of the leak, the condition of the window, and the underlying cause of the leak. In some cases, repairs and improvements such as sealing gaps, improving drainage, and installing vapor barriers may resolve the issue. However, if the window is severely damaged, aged, or the material has decayed significantly, replacement might be the most effective long-term solution. 
The longevity of basement waterproofing can vary significantly depending on several factors, including the quality of the materials used, the method of waterproofing applied, the workmanship during installation, and the environmental conditions around the home. Generally, a well-executed basement waterproofing system can last for several decades. 
Publish Date:
Last Modified Date:
Explore more problem signs