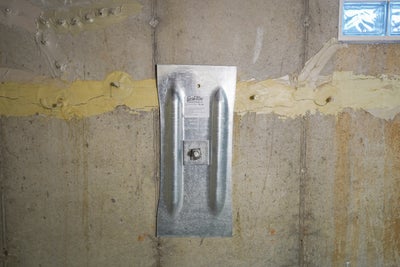 Anyone who has ever been on the market for a home knows how crucial it is to address foundation problems promptly. Water intrusion events stay on a home seller disclosure sheet forever. That's why it's important to recognize the signs that your foundation needs work.
Several common issues to pay attention to include shearing, cracks, and bowing in walls, leading to structural instability. Sticking windows and doors can also be frustrating and indicate underlying foundation issues. Thankfully, wall anchors provide an effective solution to these problems. In this article, we will delve into the world of wall anchors, exploring their purpose, signs that indicate you need them, and why Tar Heel Basement Systems is the best choice for wall anchor installation.
What Are Wall Anchors?
Wall anchors are structural devices that stabilize and reinforce walls experiencing shearing, cracks, and bowing due to foundation problems. They provide lateral support, preventing further movement and potential collapse. Wall anchors transfer the pressure exerted on the wall to more stable soil or the load-bearing ground beyond the problematic area.
Signs You Need Wall Anchors
Identifying the need for wall anchors is crucial in preventing further damage to your home. Here are some signs that indicate you may need wall anchors:
Visible cracks in basement walls, especially those wider than 1/4 inch
Bulging or bowing walls, particularly in the basement or crawl space
Sticking windows and doors, which may indicate shifting foundations
Gaps between windows and frames or doors and frames
Cracks in the foundation or exterior brickwork
If you notice any of these signs, it is essential to consult a professional foundation repair company like Tar Heel Basement Systems to assess the situation and recommend the appropriate solution.
Are Wall Anchors Necessary?
Yes, wall anchors are necessary if you want to ensure the stability and safety of your home. Ignoring foundation problems can lead to more severe damage and costly repairs down the line. Wall anchors provide a long-term solution by stabilizing walls and preventing further movement, ultimately preserving the structural integrity of your property.
What Are the Different Kinds of Wall Anchors?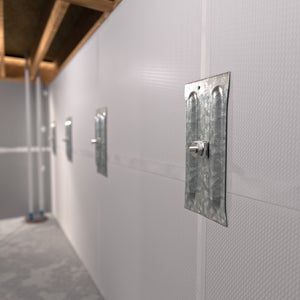 While various types of wall anchors are available, Tar Heel Basement Systems offers SettleStopⓇ Wall Anchors. This system is designed to work effectively in any kind of soil, providing reliable stabilization for your walls. The Wall Anchor System consists of galvanized steel rods and anchors mechanically advanced into the soil and steel plates on the interior basement walls. When anchored together, the rods and plates are tightened, thus counteracting external pressures.
What Are the Benefits of Wall Anchors?
Wall anchors offer several benefits, making them an ideal solution for foundation problems. Here are some key advantages:
Structural Stability
Wall anchors provide lateral support to stabilize walls, preventing further movement and potential collapse. This ensures the structural stability of your home.
Cost-Effective Solution
Compared to other foundation repair methods, wall anchors are a cost-effective solution. They address the root cause of the problem and eliminate the need for extensive excavation or foundation replacement.
Versatility
Wall anchors can be used in various situations and soil conditions. Whether you have a residential or commercial property, wall anchors can effectively stabilize your walls. This solution is also compatible with other preventative measures, such as basement waterproofing.
How Tar Heel Basement Systems Installs Wall Anchors
Tar Heel Basement Systems follows a proven process to install wall anchors and restore the stability of your home. Here's an overview of our installation process: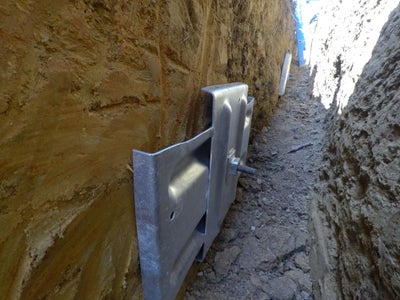 Exterior Excavation
Our team will carefully excavate the soil surrounding the affected wall to create access for the installation process.
Drilling Holes and Installing
We will drill small holes into the wall and install the helical plates, ensuring a secure connection between the wall and the anchor system.
Tightening
Once the wall anchors are in place, they are tightened, applying pressure to stabilize the wall and prevent further movement.
Why Tar Heel Basement Systems Wall Anchors Are the Best Choice for Your Home
When it comes to wall anchors, Tar Heel Basement Systems offers unparalleled quality and service. Here are some technical advantages of our wall anchors:
High-strength galvanized steel construction for maximum durability
Adjustable design to accommodate various wall thicknesses and conditions
Engineered to withstand high loads and pressures
Additionally, Tar Heel Basement Systems provides an annual maintenance service plan to ensure the continued effectiveness of your wall anchors and peace of mind.
Contact Tar Heel Basement Systems for Wall Anchor Installation Today!
Don't wait until foundation problems worsen. Contact Tar Heel Basement Systems today for professional wall anchor installation. Our team of experts will assess your situation, provide a customized solution, and restore the stability of your home. Reach out to us now and schedule a free inspection.
FAQs
The installation process typically takes one to two days, depending on the complexity of the project.
Wall anchors are visible on the interior basement walls and will need to remain exposed for routine tightening and maintenance, however they are minimally intrusive compared to I-beams or other types of intervention. Any exterior excavation is carefully restored to maintain the aesthetics of your property.
Yes, Tar Heel Basement Systems offers a warranty on wall anchor installations, providing you with peace of mind.