Carbon Fiber Strips for Basement Wall Reinforcement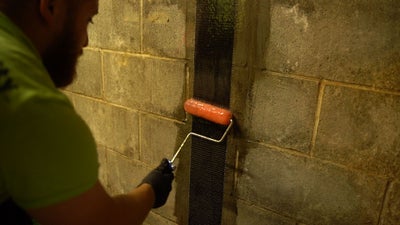 Stumbling upon cracked or bowing walls in your basement can cause concern. These aren't just minor issues; they pose a risk to your home's structure and value. The good news is these problems can be resolved. Our go-to remedy? Reinforcing basement walls with carbon fiber strips/straps.
As the foremost experts in basement repair across North Carolina, Tar Heel Basement Systems introduces a cutting-edge solution to this all-too-common challenge.
What Is Carbon Fiber Basement Wall Reinforcement?  
Carbon fiber Basement Wall Reinforcement represents an innovative approach designed to stabilize and fortify foundation walls exhibiting indications of strain, such as cracks and bowing. By leveraging the exceptional strength of carbon fiber, these slender yet remarkably sturdy straps can effectively safeguard against the progression of foundation stress once they are securely affixed to the wall.
The straps are most effective in cases where walls have shifted inward by no more than two inches.
Unlike steel beams or wall anchors, carbon fiber straps are unobtrusive and require minimal space, making them a favored choice for many homeowners who want to preserve the aesthetics of their homes.
Signs You Need Carbon Fiber Strips for Basement Wall Reinforcement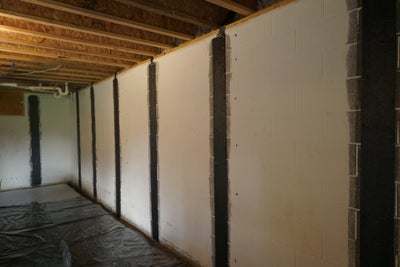 If your basement walls show the following signs, it's time to consider our carbon fiber solution:
Horizontal, vertical, or stair-step cracks in the walls
Walls that bow or bend
Walls leaning inward at the top
Inward movement less than two inches
Every home has unique challenges. If your walls have significant damage, alternative methods like wall anchors or channel anchors may be better suited. For expert advice tailored to your home, contact us for a free inspection.
Is Carbon Fiber Basement Wall Reinforcement Necessary?  
Absolutely, postponing this can exacerbate structural problems, escalating the costs and complexity of future repairs. Acting early can save you much trouble and expense in the long run.
What Are the Benefits of Carbon Fiber Strips for Basement Wall Reinforcement?  
Enhanced Structural Integrity  
Carbon fiber Basement Wall Reinforcement brings a profound enhancement to the structural integrity of your walls. By harnessing the remarkable strength of carbon fiber, this method not only reinforces your walls but also effectively maintains them in their existing position. This prevents any further deterioration or harm from occurring, safeguarding the overall stability of your foundation.
Low-Profile Appearance  
One of the remarkable attributes of carbon fiber straps is their subtle and unobtrusive presence. These straps possess a low-profile appearance that is easily covered by paint or drywall. Their discreet nature enables easy integration with your interior aesthetics.
Long-Lasting Solution  
Unlike traditional metals, carbon fiber is a resilient polymer that withstands time without succumbing to corrosion. This enduring quality ensures that the benefits of carbon fiber basement wall reinforcement remain effective and intact over the long term.
How We Install Carbon Fiber Basement Wall Reinforcement  
Our specialized team adheres to a structured installation process:
Evaluate the wall's condition
Mark installation points for straps
Prepare the wall for adhesion
Attach a bracket to the sill plate
Apply high-strength epoxy
Secure the carbon fiber strap
Thread strap through the sill plate bracket
Apply a final epoxy coat
Confirm the strap is securely bonded
You can rely on Tar Heel Basement Systems for precise installation, guaranteeing lasting protection for your home.
Why Our Carbon Fiber Basement Wall Reinforcement System Is the Best Choice for Your Home  
Superior strength
Minimal visual impact
Prevents wall cracking and bowing
Integrates with other home solutions
Comprehensive annual maintenance service plan
Contact Tar Heel Basement Systems for Carbon Fiber Wall Reinforcement Today!  
Tar Heel Basement Systems has been repairing and protecting North Carolina homes for years. Our expertise and proven solutions ensure your home's structural integrity is safeguarded for the long term. Contact us today to schedule your free, no-obligation inspection.
FAQs
In most cases, the installation of Carbon Fiber is generally completed within a single day, with the exact duration contingent upon the condition of the wall being treated. This efficient process ensures minimal disruption to your schedule and living space, expediting the reinforcement of your foundation walls.
Following installation, the carbon fiber straps maintain a discreet and unobtrusive presence. Their low-profile design minimizes their visibility, and if desired, they can be effortlessly concealed using standard finishing techniques such as painting or incorporating a layer of drywall. This ensures that your living space's aesthetic appeal remains intact while benefiting from the structural reinforcement.  
Carbon fiber is primarily well-suited for application on concrete blocks or poured concrete walls exhibiting mild to moderate damage. Its effectiveness lies in its ability to reinforce these walls, enhancing their stability and preventing further deterioration.  
Publish Date:
Last Modified Date: