Push Piers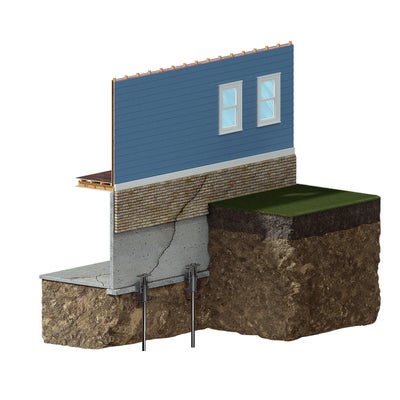 A sound foundation is the cornerstone of a safe home, guaranteeing both your home's structural stability and your family's well-being. When your foundation begins to settle unevenly or quickly, there will be warning signs that may indicate the need for push piers to level your home and prevent further damage.  
Taking swift action at the first signs of issues like cracks in the drywall or doors that stick is vital. Fortunately, a trustworthy solution is within reach for North Carolina homeowners facing these common challenges.
Discover the transformative power of Tar Heel Basement Systems' SettleStop Push Piers, engineered to offer permanent stability and even the possibility of elevating your foundation back to its initial position. Explore why our push piers are the prime choice for foundational repairs, standing as a beacon of trust and quality in the industry. 
This guide explains what push piers are and how they work, underlining their necessity and the advantages of choosing Tar Heel Basement Systems. 
Understanding Push Piers 
Push Piers are crafted from galvanized steel and mechanically driven into the ground beneath your foundation until they reach a stable soil layer or bedrock to offer reliable support. These devices go beyond unstable and shifting soils to find a solid foundation for your home.
Functioning as resistance piers, these systems reach a point of resistance deep in the ground, establishing a strong, resilient support base for your dwelling. They integrate seamlessly with a range of solutions for foundation settlement, basement waterproofing, crawl space insulation, and concrete repairs, offering a comprehensive strategy to maintain the structural health of your home over a long period. 
Identifying the Need for Push Piers 
The necessity for push piers arises when there are discernible signs of foundation settlement. These symptoms can encompass: 
Procrastinating on addressing these signs can result in compounded issues, escalating repair costs down the line. Reach out to Tar Heel Basement Systems, the specialists in local foundation repair, to curb further deterioration. 
Push Piers 
Push Piers are more than a mere recommendation; they are a necessity to curb escalating foundational issues, avoiding a cycle of recurring repairs and exponentially increasing expenses. These piers facilitate the stabilization of your foundation, potentially restoring it to its original level.
If you put off leveling or stabilizing your settling foundation, you may find yourself with wide cracks that promote moisture, mold growth, doors and windows that no longer close, and decreased energy efficiency.
Tar Heel Basement Systems extends a variety of other pier systems, including helical and slab piers, offering a tailored solution along with a free expert inspection to help you plan your foundation repair strategy. 
Push Piers: Unveiling the Benefits 
Tar Heel Basement Systems' pier systems stand out for their extraordinary resilience and durability. Installing them grants you a host of advantages including:
Lifelong Stability: Experience the reassurance that comes with a permanently stable foundation.
Protection against Future Damage: The deep installation of push piers prevents any future settling and subsequent damages.
Elevation Potential: Beyond stabilization, our piers hold the potential to lift your foundation closer to its original position, mitigating cracks and gaps arising from uneven settling.
Customized Support: Our experts determine the precise installation depth based on your home's distinct needs, promising customized and efficient support.
Comprehensive Protection: The installation integrates with a range of proprietary solutions for complete foundational stability.
Reliable Warranty: Enjoy a lifetime of protection with our extensive warranty on push piers. 
Our Push Pier Installation Process 
Our installation procedure, executed by certified professionals, comprises the following detailed steps:
Digging down to the home's foundation footer
Fixing a unique bracket to the footing
Piecing together pier sections
Mechanically inserting pier sections into the ground
Keeping a check on depths and capacities
Finalizing the installation with pier capping
Redirecting the load to steadier soil
Inserting rivets in external walls as reference points
Backfilling and tidying excavation sites
Rely on Tar Heel Basement Systems for proficiently installed push piers, ensuring a tailor-made solution for your home's foundation issues.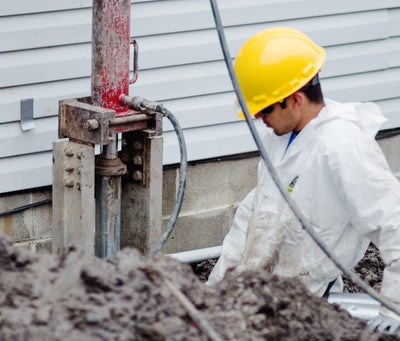 Why Opt for Our Push Piers 
Our SettleStop Push Pier System excels owing to its:
Superior quality steel composition
Additional strength from external sleeves
Concealed post-installation appearance
Regular installation and follow-up checks
Lifetime protection warranty
Availability of an annual maintenance service plan
Feasibility of installation throughout the year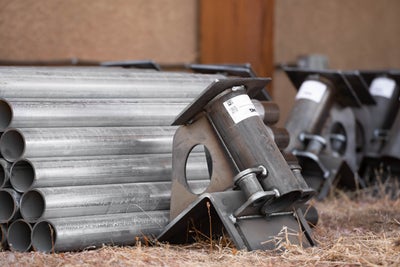 Reach Out to Tar Heel Basement Systems Today 
Foundation settlement should never be left unchecked. Respond swiftly to protect your home from escalating damage.
Connect with Tar Heel Basement Systems for a complimentary, no-obligation inspection and bring to your home the ultimate solution—push piers that promise permanent stabilization and the potential to return to its original stance. Experience the commitment to quality and customer satisfaction that North Carolina homeowners vouch for. Contact us today! 
FAQs
Pricing is tailored based on the unique specifications of each project, including the severity of the damage and the number of piers necessary. Obtain a clear cost breakdown and explore payment options during your free consultation with Tar Heel Basement Systems. 
The timeline can fluctuate based on various factors including the location and extent of the problem, as well as the number of piers to be installed. Get a precise project duration estimate during your complimentary inspection with Tar Heel Basement Systems.
Our approach minimizes disruption by strategically excavating small areas near the foundation to facilitate pier installation. Once the process is complete, we restore the area to its previous state. For more details and to schedule a free inspection, contact Tar Heel Basement Systems. 
Publish Date:
Last Modified Date: