Foundation Piers
Every home leans on its foundation for enduring stability. A compromised foundation puts both the architectural integrity of your home and the safety of its residents in jeopardy.
The tell-tale signs of a settling foundation—such as misaligned floors and jagged wall cracks—can understandably cause concern. Swift action is the best approach.
Tar Heel Basement Systems specializes in producing foundation repair remedies, notably our foundation piers, engineered to eternally stabilize and possibly elevate your sinking foundation. With choices like push, helical, and slab piers, we tailor solutions to secure your home.
We aim to help homeowners understand the indispensability of foundation piers and why Tar Heel is your trusted partner in this venture.
What Are Foundation Piers?
These piers serve as stability pillars, burrowed deep beneath your foundation to anchor in the steadfast soil or bedrock layer, delivering the needed support for your foundation.
These pillars play the role of columns, channeling the home's weight deep into firmer terrain. These prevent subsequent settling and may even offer a chance to elevate the home closer to its initial stance.
By ensuring lasting steadiness, they shield your property from hazards due to fluctuating or expansive soil conditions.
While foundation piers remain pivotal, they complement other integral home solutions such as basement waterproofing, crawl space repair and encapsulation, etc. Essentially, they're a linchpin in a holistic strategy to guard your home's structural vigor.
Signs that Foundation Piers are Needed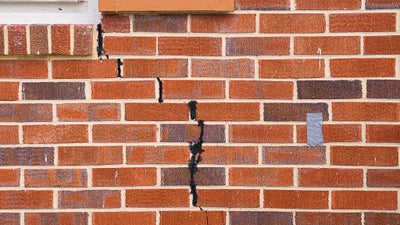 Identifying early signs of a faltering foundation is paramount. Be vigilant for these telltale signs:
Fractured foundation walls
Cracks in drywalls
Cracked bricks
Should you spot any of the above symptoms, reach out to foundation repair specialists at Tar Heel without delay. We offer complimentary foundation evaluations and propose tailored fix strategies.
Are Foundation Piers Necessary?
Yes, foundation piers are vital to permanently stabilize settling foundations and avoid further damage.
Addressing foundation issues early on can be an excellent cost-saving measure. Delaying necessary piers can escalate expenses over time as damages accumulate.
As your local basement expert, we urge timely intervention. We offer fast and permanent solutions for other side effects, like bowing walls from hydrostatic pressure. Our solutions are crafted after meticulous inspection of the damage nature and severity.
What Are the Different Types of Foundation Piers?
Tar Heel employs three signature pier systems—helical, push, and slab—to combat North Carolina's unique soil challenges. Though each has its particular application, they all share the primary stabilizing purpose.
Helical Piers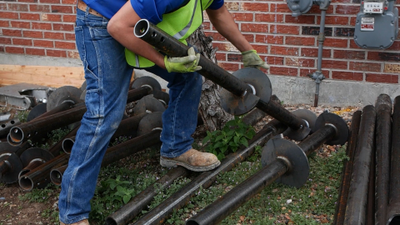 Our Helical Pier System leverages steel piers crowned with helical plates, functioning like anchors to secure your residence deep below the ground. This assures a sturdy foundation.
As helical piers are adaptable to a variety of soil types and load weights, they are ideal for light structures, such as porches, or smaller homes.
Installation entails:
Clearing the topsoil to reveal the base
Leveraging hydraulic mechanisms to insert the piers
Monitoring their reach and strength
Affixing a robust steel clamp to the base
Marking the piers' position on external walls
Refilling the cleared soil
Push Piers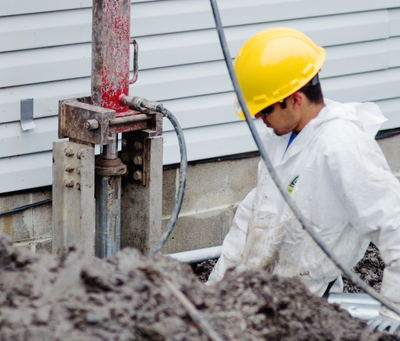 The Push Piers resemble helical piers but have distinct design and installation nuances. Comprising extended steel shafts, they're thrust into the earth, harnessing the house's weight as a resistance measure against sinking soils.
Installation steps:
Excavate to display foundation base
Attach a base bracket
Push the piers deep using the bracket
Ensure the desired depths and strengths are achieved
Mark the locations on outer walls
Refill the soil
Slab Piers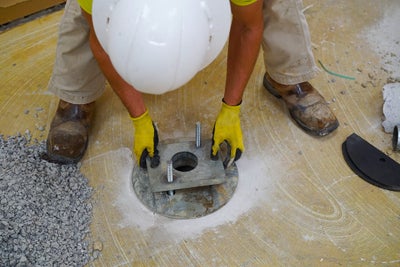 Slab Piers offer pinpointed support, especially crafted for slab foundation homes.
Installation involves:
=Removal of flooring sections
Drilling through the slab to expose the base
Slotting a bracket beneath the base
Inserting pier sections deep
Monitoring their reach and sturdiness
Connecting a bracket to the slab
Filling the drilled hole with concrete for a sleek finish
Tar Heel presents a customized variant of each pier type to cater to distinct needs and foundation types.
What Are the Benefits of Foundation Piers?
Our pier systems promise unparalleled resilience and durability. Each installation is adjusted for your home to grant:
Long-term Stability: Each pier system is guaranteed to permanently stabilize your foundation.
Prevent Further Settling: In addition to providing stability, our piers prevent your home from settling further into the ground.
Avoid Related Foundation Damage: Our piers prevent additional foundation damage.
Protect Your Foundation: Our durable pier systems ensure your foundation is protected for years to come.
Potential for Foundation Lifting: When the installation crew deems it is safe to do so, additional pressure can be added to the piers during their installation to potentially lift settling sections of your foundation.
Comprehensive Warranty: Each pier is protected by a , transferrable, lifetime warranty.
To take advantage of these perks, choose Tar Heel's foundation piers. Contact us to see how our exceptional piers can strengthen your home.
Why Tar Heel's Foundation Piers Stand Out
Beyond the listed advantages, our foundation piers offer:
Excellence over regular piers
Customized design for North Carolina soils
Lasting performance and strength
Comprehensive warranty coverage
Inclusion in our routine maintenance plan
Reach Out to Tar Heel Basement Systems for Foundation Piers Now!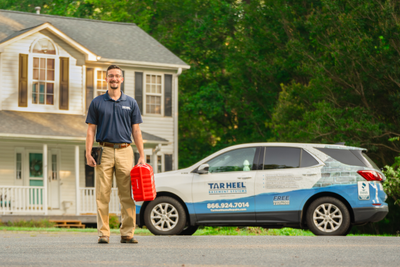 Don't neglect your home's foundation, as settling foundations won't resolve on their own. Repair and protect your home the right way the first time with Tar Heel Basement Systems. With over 20 years of experience in fixing settling homes across North Carolina, our team is ready to provide a free inspection and estimate. Trust us to help you create a safe and stable home.