Slab Piers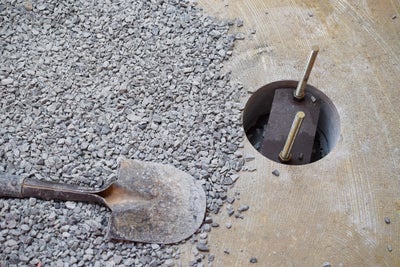 Like basement and crawl space foundations, differential settling in slab foundations poses a serious threat to your home's structural integrity and safety.
Do not overlook obvious signs such as visible cracks or uneven floors, as they point to the compromised state of your home's foundation.
Tar Heel Basement Systems introduces the ultimate remedy: state-of-the-art Slab Piers. With our years of expertise in foundation repair, we present this enduring solution backed by warranty to bolster your home's foundation.
Explore this page to understand why slab piers are an indispensable and effective solution for your foundation issues. 
What Are Slab Piers? 
Slab piers are foundation repair elements exclusively crafted to permanently stabilize settling slab foundations. Distinct from ordinary repair alternatives, slab piers are a permanent measure that allow us to rectify and level your foundation without being too invasive and requiring us to dig up all of your home's flooring.
By lending support to your foundation, these piers function as firm columns that distribute your home's weight to more stable ground, preventing further settling and defending against fluctuating soil conditions.
Moreover, slab piers enhance stability and have the potential to restore the house to its initial position. They can also serve a pivotal role in a broader strategy to maintain the structural health of your home, including initiatives such as basement waterproofing and crawl space repair, ultimately safeguarding your home's longevity.
Signs You Need Slab Piers 
Your concrete slab foundation may require stabilization through slab piers if your home exhibits symptoms like:
Though seemingly superficial, these signs warn of a deteriorating foundation that demands immediate attention.
If you recognize any of these signs, reach out to local foundation repair experts at Tar Heel Basement Systems promptly.
Are Slab Piers Necessary? 
If your slab foundation is settling and you've noticed one or more of the symptoms listed above, slab piers are necessary to halt the movement of your foundation and steady your home. Neglecting settling foundation symptoms will only amplify the issue over time, leading to more complex and expensive repairs.
Timely intervention with slab pier repair can avert additional damages, securing your peace of mind. Treat it as a vital facet of a comprehensive home care solution that not only saves money but also upholds your home's value for the foreseeable future.
At Tar Heel Basement Systems, we acknowledge that every home is distinct, and accordingly devise a customized repair strategy, offering a plethora of solutions for foundation, basement, and crawl space issues to ensure your home remains safe, steady, and shielded for many years to come.
What Are the Benefits of Slab Piers? 
Slab piers, a solution proudly provided by Tar Heel Basement Systems, bring an array of benefits to your home, including:
Halting and preventing future settling by channeling the weight of the structure onto stable soil or bedrock
The potential to lift settled areas back into position
Long-lasting stability
Boosted property value
Transferrable lifetime warranty for your peace of mind
Our tailored solutions and adept services ensure optimum benefits in foundation repair.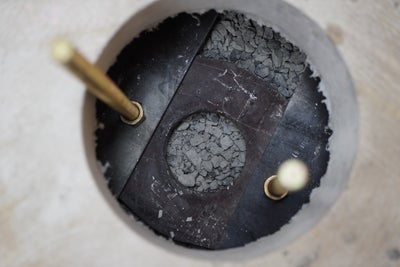 How We Install Slab Piers 
Our approach to slab pier installation is as singular as the slab piers themselves.
The installation involves: 
Detailed inspection by our specialists
Removing affected flooring
Drilling a hole through the slab to reach the footing
Inserting a bracket under the footing
Driving pier sections into the ground
Monitoring pier depths and capacities
Capping the pier
Fixing a bracket on the slab
Shifting the home's weight onto the pier
Filling the hole with cement and smoothing the finish
As a leading foundation repair company in North Carolina, Tar Heel Basement Systems takes pride in our proficiency in slab pier installation.
Why Our Slab Piers Are the Best Choice for Your Home 
Our slab piers stand out for several reasons including:
Specific engineering for slab foundations
Customization to suit individual needs
Exclusive design for maximal stability and lifting power
Backing of a comprehensive lifetime warranty
Support of yearly service and maintenance plans
Contact Tar Heel Basement Systems for Slab Piers Today!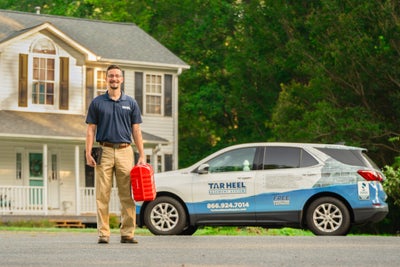 Don't compromise your home's stability or your family's safety with delayed repairs to foundation issues, big or small. Get in touch with Tar Heel Basement Systems today for a complimentary inspection to learn how we can help restore your home to its former glory.
Trust in our proprietary piers, skilled installation, and lifetime warranty for all your foundation repair needs.
FAQs
Slab piers are designed specifically to stabilize and potentially lift slab foundations, offering a targeted solution that can address settlement issues effectively. They work by transferring the weight of your home to deeper, stable soil layers or bedrock, bypassing the unsettled and compromised soil that caused the issues in the first place.
Yes, installing slab piers can significantly enhance the structural integrity of your home, which can lead to an increase in property value. Prospective buyers are more likely to invest in a property with a secure and well-maintained foundation.
Slab piers are versatile and can be installed in a wide range of soil types. However, the suitability might vary based on the specific geological conditions of your site. Our specialists at Tar Heel Basement Systems will conduct a detailed analysis during the free inspection to ascertain the viability of slab pier installation in your property's soil type.