Commercial Foundation Repair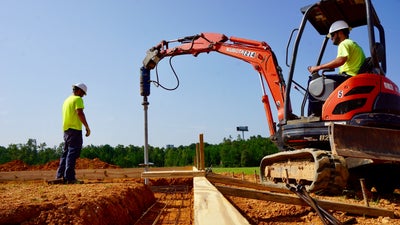 Businesses are prone to face the same problems as residential homes when it comes to cracks in the foundation, erosion, and water damage. However, when it comes to running a company, these issues are not just small bumps in the road — they can disrupt your daily operations and reduce your earnings.
At Tar Heel Basement Systems, we make commercial foundation repairs easy for businesses in the Charlotte, NC area. Leveraging over twenty years of experience, we tailor our services to meet the specific demands of our commercial customers, delivering results that stand the test of time.
Choosing to work with us means opting for lasting solutions and unmatched expertise.
Discover more about us on this page, where we highlight our dedication to excellent customer service and the innovative solutions we provide.
How We Approach Commercial Foundation Repair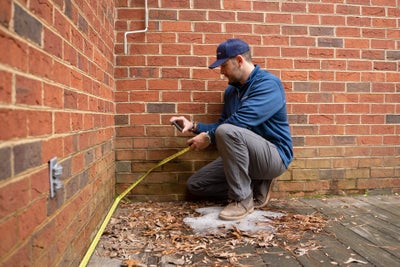 At Tar Heel Basement Systems, fixing commercial foundations goes beyond mere service; it's a blend of cutting-edge tech, deep expertise, and a pledge to top-quality work.
Our process kicks off with a detailed examination to identify the problems affecting your foundation. After that, our seasoned team of engineers and technicians craft a well-planned repair strategy that causes the least interruption to your business operations.
We employ top-of-the-line products, including foundation pier systems and wall reinforcements, each rigorously verified for outstanding performance and long-lasting durability.
Opting for Tar Heel Basement Systems is choosing steadfast quality and a reliable solution.
Our Offerings in Commercial Foundation Repair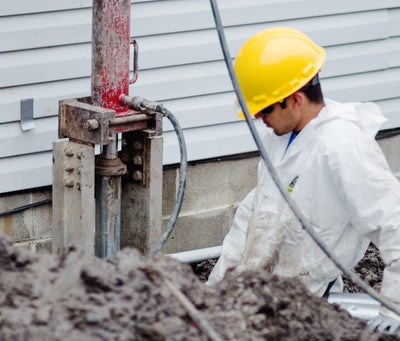 Tar Heel Basement Systems offers several services for commercial foundation repair, each tailored to a specific foundation type or need:
Helical Piers: Helical piers are perfect for stabilizing lighter structures that require an opportunity to be elevated to their original position.
Push Piers: We recommend push piers for structures with a heavy enough load to provide the resistance necessary for the piers to work. 
Slab Piers: These piers are specially crafted for reinforcing concrete slab foundations. 
Wall Repair & Reinforcement: This method includes several services, including carbon fiber straps, steel I-beams, wall anchor systems, and other innovative solutions to permanently strengthen weakened, cracked, or bowing foundation walls. 
Custom Repairs: Depending on your foundation's needs, we may craft another solution not listed.  
Each of our services is proven to meet industry standards and are rigorously tested by our own experts to ensure their stability and long-lasting quality.
Contact Tar Heel Basement Systems for a free consultation and learn more about how we can assist you with tailor-made solutions.
Signs That Your Commercial Building Requires Foundation Repair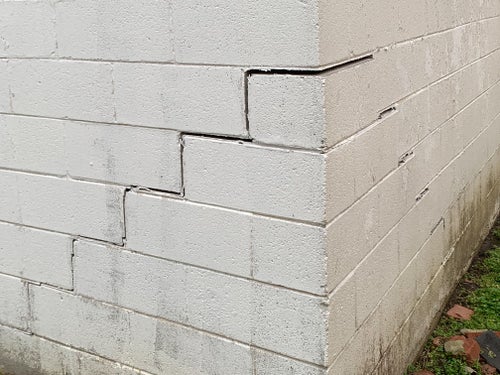 Keep an eye out for these red flags that may indicate a rapidly failing foundation:
Cracks in foundation walls
Drywall cracks
Collapsing retaining walls
Sinking foundation
Wall shearing

Quick action to address these issues is essential to avoid escalating problems and subsequent financial burdens. Trust in a respected foundation repair expert like Tar Heel Basement Systems to assist you in mitigating the damage.
Why Choose Tar Heel Basement Systems for Your Commercial Foundation Repair?  
Quick Turnaround: We understand the importance of time, delivering speedy services to reduce business interruptions.
Proven Expertise: Leveraging over 15 years of experience serving businesses, our team's skill set is second to none.
Economical Solutions: We focus on identifying and addressing the underlying issues, promoting long-term financial savings.
Industry-Leading Resources: Our toolbox features the pinnacle of innovative and dependable products.
Enduring Stability: Our goal is to halt recurring problems, offering a foundation that stands the test of time.
Future-Ready Remedies: Beyond just immediate fixes, we provide solutions designed to withstand future challenges.
Unobtrusive Service: Our seasoned team operates with minimal disturbance, allowing your business to continue smoothly.
We position ourselves as your business's safeguard against foundational challenges, boasting unmatched expertise and dedication in the Charlotte area as a premier foundation repair company. Choose Tar Heel Basement Systems, where quality meets commitment.
Reach out today for an obligation-free evaluation!
Contact Our Team at Tar Heel Basement Systems for Commercial Foundation Repair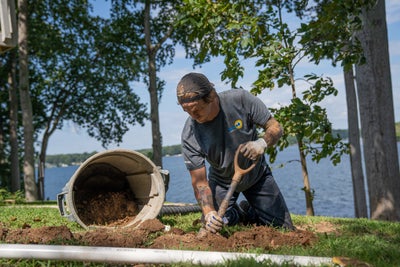 Small foundation issues can escalate into big problems if ignored. Don't risk the wellbeing and value of your commercial property.
Reach out to Tar Heel Basement Systems for a complimentary, obligation-free evaluation. We are committed to delivering flexible, prompt, and superior foundation repair services. Let us strengthen the foundation of your business!
Commercial Foundation Repair FAQs
The duration of a foundation repair can vary greatly depending on the severity and complexity of the issue at hand. Generally, repairs can take anywhere from a few days to several weeks. When you choose Tar Heel Basement Systems, we work diligently to complete the repair efficiently without compromising on the quality of our service. We recommend scheduling a consultation for a more precise timeframe for your specific situation. 
Delaying foundation repair is generally not advisable as small issues can quickly escalate into more serious problems, potentially compromising the safety of the structure and increasing repair costs. However, it is understandable that circumstances might require you to delay repairs. Ideally, foundation repairs should be addressed as soon as possible to prevent further damage. Tar Heel Basement Systems is here to help assess the urgency of your repair needs and help you plan accordingly. 
While it is possible in some cases to opt for a temporary fix to manage foundation issues, it is not recommended because it may not address the underlying problems, leading to more significant issues in the future. Tar Heel Basement Systems prioritizes solutions that provide long-term stability and safety for your foundation. 
Publish Date:
Last Modified Date: